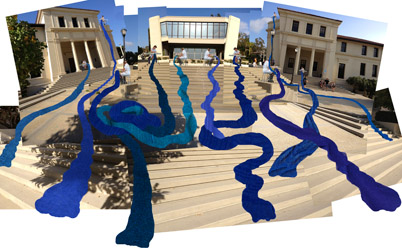 Textile artist and fashion designer Liz Collins' Knitting Nation project—industrial knitting as performance art—will make its West Coast debut November 6 at Occidental as part of Collins' two-week stay as the College's first Wanlass Artist-in-Residence.
Collins and her troupe of artisan-knitters will transform the steps between Johnson and Fowler halls at the heart of the Occidental campus into Knitting Nation Phase 12: H2O, a day-long, site-specific, carefully choreographed performance involving literally miles of yarn.
Knitting Nation, which began with a 2005 performance on Governors Island in New York, "functions as a commentary on how humans interact with machines, global manufacturing, trade and labor, brand iconography, and fashion," states Collins' artist's statement. 
In addition to the Knitting Nation Phase 12 performance, Collins' stint as Wanlass Artist-in-Residence will feature a new installation, Distancer-Pursuer, in Occidental's Mullin Gallery, and a November 4 public dialogue with noted art historian Julia Bryan-Wilson. Oxy students will work with her on the performance and the installation.
Ten years ago, New York-based Collins was a rising fashion designer, whose knitwear was worn by such celebrities as Sarah Jessica Parker, Cameron Diaz, and Emma Thompson. But a teaching job at the Rhode Island School of Design led her to focus less on the business aspects of fashion and more on the artistic and conceptual side of textile production.
Now an internationally known artist, Collins and her Knitting Nation series have been featured at MoMA, the Institute of Contemporary Art/Boston, and the Tang Museum. She was a 2006 United States Artist Target Fellow in crafts and traditional arts and is a member of the Council of Fashion Designers of America.
Collins will serve as the inaugural Wanlass Artist-in-Residence at Occidental, funded by a recent grant from the Kathryn Caine Wanlass Charitable Foundation. Her residency also will kick off the College's newly created arts initiative, OxyArts. A key intitiative of the College's strategic plan, OxyArts promotes exhibition and visual art programming that promotes active participation in the Los Angeles art community.
Knitting Nation Phase 12 H2O
Wednesday, November 6, 11 a.m.- 6 p.m.
Steps between Johnson and Fowler halls on the Occidental campus
A Dialogue between Artist-in-Residence Liz Collins and Art Historian Julia Bryan-Wilson
Monday, November 4 at 5 p.m.
Choi Auditorium, Johnson Hall
Distancer-Pursuer
An Installation by Liz Collins
November 4-8
Mullin Gallery
A public opening reception for Distancer-Pursuer follows Monday's dialogue at Mullin Gallery.