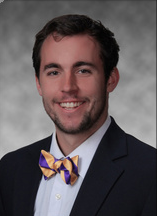 Ryan Metzler '14 was wrapping up work on his senior comps in March and looking for film festivals where he could enter his documentary when he discovered that the deadline for the Student Academy Award competition was two days away.
"I thought, 'Why not?'" said the art history and visual arts/media arts and culture major from Doylestown, Pa. So he spent the next 48 hours scrambling to put the final touches on his10-minute film, burn it to a DVD, and ship it overnight to the judges.
Today, Metzler is a national finalist in the Academy of Motion Picture Arts and Sciences' 41st Annual Student Academy Awards – the second Oxy student to reach the finals in as many years.
Not bad for someone who came to Oxy thinking he would major in anthropology, didn't discover the film program until his sophomore year, and still feels as if he is learning his way. "I'm still kind of new to this field – I feel like I need to learn a lot more," he modestly avers.
Metzler is one of 41 students from 23 U.S. colleges and universities as well as 10 students from foreign universities selected as finalists for the prestigious award. Metzler is the only finalist from a liberal arts college – the other 40 come from universities or art schools.
His documentary project Eth"No"Representation is a collaborative, counter-ethnographic exploration of the misrepresentation of Native Americans in mainstream media, inspired by a junior year semester in New Zealand and internships at the Autry National Center that gave him access to Native Voices, a local Native American theater troupe. 
Metzler is Oxy's second national finalist in the Student Academy Awards. Last year, Raffy Cortina '13 won top honors for Best Alternative Film for his 13-minute short, Bottled Up. "Raffi's been great – he's given me a lot of help," Metzler said. "I had never heard of the Student Academy Awards until he won last year."
He has heard, however, about Oxy's impressive tradition of documentary filmmaking, as represented by Caitrin Rogers '04, co-producer of the Academy Award-winning 20 Feet From Stardom, and Gabriela Cowperthwaite '93, director of the acclaimed (and controversial) Blackfish.
"They've been a great inspiration and motivation," he said. "I've met Caitrin – she's come back to campus for media arts and culture panels – and she's encouraged us to continue to work in the industry."
Metzler, who also plays rugby and competes in track and field, is on a roll: he recently found out that he also has been awarded a Fulbright to return to New Zealand and engage in a similar comparative exploration of indigenous representation in media with Maori artists, scholars and cultural institutions.
The Academy established the Student Academy Awards in 1972 to support and encourage excellence in filmmaking at the collegiate level.  Past Student Academy Award winners have gone on to receive 46 Oscar nominations and have won or shared eight awards. They include John Lasseter, Pete Docter, Robert Zemeckis, Trey Parker and Spike Lee.
Academy members will now vote to determine up to three winning films in each category. The winners, but not their medal placements, will be announced later this month. The winning students will be brought to Los Angeles for a week of industry activities and social events that will culminate in the June 7 awards ceremony at the DGA Theater in Hollywood, at which time the gold, silver and bronze medalists will be revealed.