Submitted by kwall_admin on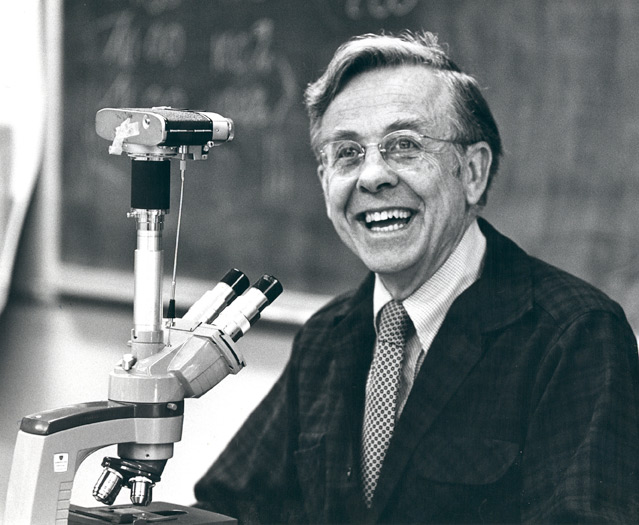 John W. McMenamin '40, professor of biology emeritus, died February 11 at his home in Oceanside. He was 96. 
A native of Tacoma, Wash., McMenamin received his teaching credential from UCLA in 1942 and his M.A. in 1946, having taught at Antelope Valley Joint Union High School and Junior College in Lancaster from 1942-45. He joined the Occidental faculty in 1946 and completed his Ph.D. in zoology from UCLA three years later.
McMenamin's teaching and research interests focused on cellular and developmental biology. Later in his career he studied the histology of fishes, especially the structural adaptations of the ovary of surfperch (the live bearing marine fishes along the West Coast).
During his 12 years as chair of the College's biology department, several institutional grants provided modern facilities and instrumentation for research and the number of faculty members in the department double. John and wife Adelaide '40 (who worked in the alumni office for 20 years, retiring as director of alumni relations in 1979) frequently hosted students and alumni in their home and organized field trips to locales such as the Borrego Valley, Palomar mountain, and Yosemite.
After retiring from Occidental in 1982, McMenamin retired to the tidewaters of Puget Sound, where he had spent summers as a boy "messing around" in rowboats and fishing for silver salmon and cutthroat trout. He and Addie built a single-story cedar home in Longbranch, Wash., and then indulged themselves in natural wonders.
"We were always conscious of the fine line between our roles of observers and participants," John said. "We adapted to the local animals. When deer exclosures proved futile, we netted the loganberries, strawberries, and blueberries. When the raccoons ravaged our first corn crop, we turned the corn patch into a large dahlia garden, to our great joy."
The McMenamins' major contribution to the community was publication of a book on the history of their peninsula written by a neighbor from a pioneer family. John also initiated and helped manage a project to restore a salmon run in a once-teeming stream, helping to build four weirs—low log dams creating pools to assist fish through a culvert blocking access to upstream spawning sites. "What a thrill it was when I saw the first salmon pass through the culvert in more than 60 years," he said.
John and Addie moved to Oceanside in 2001 for its climate and to be nearer to sons David '69 and Stuart '71. McMenamin brought his 66-year-old bench that had, with others, adorned the Academic Quad for 20 years. Built in England especially for the Oxy campus in 1938 using teak from decommissioned ships, the benches needed replacement in the late 1950s. He saved the last one in 1959, took it to Washington, and refurbished it for use in the picnic area at the beach, where visiting alumni could enjoy a bonfire while rehashing their days in Eagle Rock.
After leaving Washington State for their "second retirement" in 2001, John and Addie embraced the multitude of activities that their community center offered. As participants in the birdwatchers club, "We go on with the bird walks," Addie noted in 2004, "and he can't hear 'em and I can't see 'em, so we're a funny couple. When I hear something, I point to it, and John takes a picture and prints it and blows it up big enough for me to see."
A photography enthusiast most of his life (he and professor of art Robert Hansen discussed conservation and photography with Ansel Adams for a KNBC half-hour taped at Oxy in 1969), McMenamin embraced macrophotography as a hobby in later years. His larger-than-life images of ants, katydids, grasshoppers, and flies—all taken in the Oceanside neighborhood where he and wife Addie lived—were "the hit of the show" at the annual photo exhibit at Ocean Hills Country Club in 2006, according to Addie.
The move to Southern California had the side benefit of putting McMenamins closer to the College, which he continued to visit periodically to research his document chronicling the first 100 years of Oxy's biology department. "It's a race against time—I'm 87," McMenamin noted in 2004 with a chuckle. But, he added, "Life is an unfinished agenda."
In recognition of their unblemished record of support for Occidental—an unbroken string of annual giving dating back to 1940—the College created the McMenamin Society in 2007 to recognize donors with five or more years of continuous support.
McMenamin is survived by his wife and sons. Funeral plans are pending.