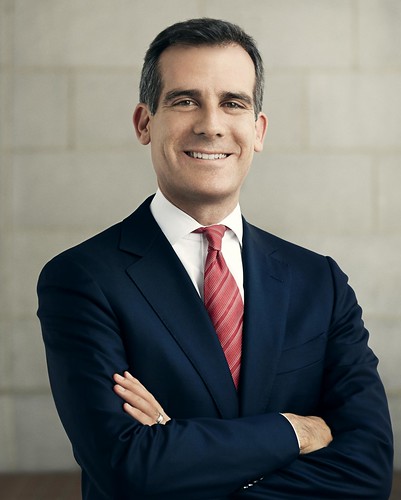 Los Angeles Mayor Eric Garcetti will be the featured speaker at Occidental College's 137th Commencement Ceremony on Sunday, May 19.
Mayor Garcetti, a former Occidental faculty member, is now in his second term as the city's 42nd mayor—the latest chapter in a public service career that began nearly two decades ago when he was first elected to the Los Angeles City Council.
A fourth-generation Angeleno and the grandson and great-grandson of immigrants from Mexico and Eastern Europe, Mayor Garcetti's life and public career have been driven by his commitment to the value of justice, dignity and equality for everyone.
Mayor Garcetti led the campaign to raise the city's minimum wage to $15 an hour, lowered its business tax, passed an ambitious public transportation plan and has guided forward a major regional initiative to house the homeless. He also led the successful bid to bring the 2028 Summer Olympic and Paralympic Games to Los Angeles.
At the same time, Mayor Garcetti has focused on improving the delivery of basic city services — paving roads, filling potholes, repairing sidewalks, and planting trees. Under his leadership, L.A. was rated the nation's best-run city by the Bloomberg What Works Cities initiative and also became the number-one solar energy city in America.
Outside the city, he rallied more than 400 U.S. mayors to adopt the Paris Climate Agreement after the Trump Administration pulled out of the pact. Mayor Garcetti also led the first National Day of Action on Immigration and has put significant local resources toward providing Dreamers and others with legal aid to fight deportation.
Mayor Garcetti's ties to Occidental are longstanding. He served as an assistant professor of diplomacy and world affairs from 1999-2000 and has recruited a number of Oxy alumni to city hall, notably Brenda Shockley '68, his deputy mayor for economic opportunity, and Rick Cole '78, who previously served as his deputy mayor for budget and innovation. Christopher Hawthorne, a professor of practice at Oxy, serves as the mayor's first chief design officer, and Oxy students currently are working with the mayor's office to examine how Los Angeles can incorporate Global Sustainable Development Goals into its planning.
Mayor Garcetti received his B.A. and M.A. from Columbia University, and studied as a Rhodes Scholar at Oxford University, and at the London School of Economics. He served as an intelligence officer in the U.S. Navy Reserve.
Also receiving honorary degrees will be:
Lande Ajose '87, senior policy advisor for higher education to California Gov. Gavin Newsom and chair of the California Student Aid Commission. Before she joined the Newsom administration, she was executive director of California Competes for four years, a leading nonpartisan voice for higher education policy research and reform. She also served as managing director at the strategic consulting firm Informing Change and focused on community college success at MDRC and the James Irvine Foundation. She holds a Ph.D. in urban and regional studies from MIT and an MA in urban planning from UCLA.
Lula Ballton, executive director of community and economic development for the six-million member Church of God in Christ International. She is the co-founder and CEO emeritus of West Angeles Community Development Corporation (WACDC) which she led from 1993-2012. A ministry of West Angeles Church, WACDC is dedicated to increasing social and economic justice and alleviating poverty through community development. She has a law degree from UCLA, an MA in communications from Northwestern and attended Harvard Divinity School.
John Power '58, the Sheffelman Distinguished Lecturer at the University of Washington School of Law and a retired partner of O'Melveny & Myers in Los Angeles. A specialist in corporate law, he coordinated O'Melveny & Myers' international practice in Los Angeles and has chaired multiple committees for both the California and American Bar associations. He has served on the Occidental Board of Trustees since 1991, serving as chair from 2001 to 2003. A Phi Beta Kappa graduate of Occidental, he earned his law degree at NYU.