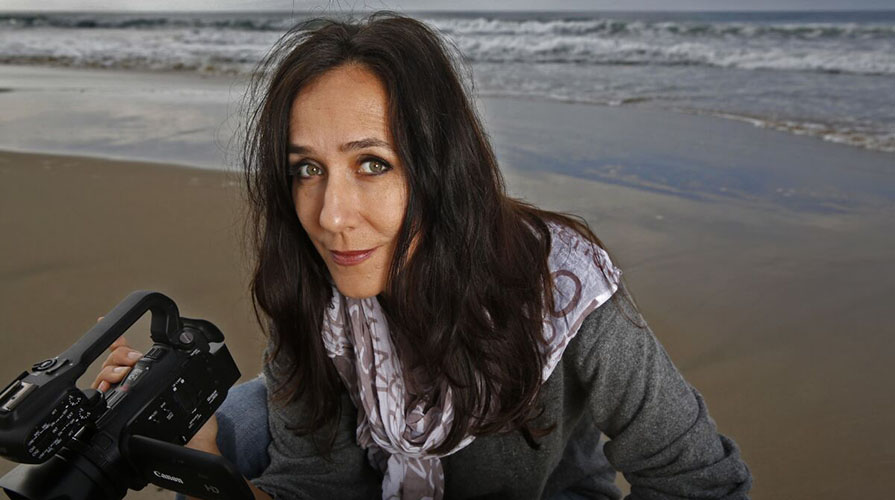 The spring program retains the theme "Oxy Creates," this time focusing on media by Media Arts & Culture faculty and Oxy alumni.
An innovative event series of film screenings and discussions moderated by Media Arts & Culture (MAC) faculty, MAC Cinematheque is designed to bring together the College and Los Angeles communities around a chosen topic, representational issue, or media form. 
The series is organized around a new theme each year. For 2022-23, the theme is "Oxy Creates!"—the first time the series has focused solely on media produced by MAC faculty and Oxy alumni. All events take place in Choi Auditorium and are free and open to the public, with first-come, first-served seating. 
All series events have a 7:30 p.m. start time with the exception of February 23, which has a 7 p.m. start time. Directions to campus are accessible here. Choi Auditorium and parking are noted on this campus map. For the health and welfare of all, high-quality masks (surgical, KN95, KF94, or N95) are strongly recommended in the theater.  
The series is sponsored by the Media Arts & Culture Department, Institutional Advancement, Alumni and Parent Engagement, Oxy Arts, and the Oxy Film Club, with generous support from the Remsen Bird Fund and Ronald R. Hahn '66 and Susan C. Hahn '65.
After We Leave (2020): 7:30 p.m. February 9, Choi Auditorium—Prof. Aleem Hossain will screen and discuss his sci-fi dramatic feature set in a near-future Los Angeles. The film garnered the Best Film Award at Sci-Fi London, and Film Threat calls it "A shining example of indie filmmaking at its finest." Hossain will be joined by cinematographer Julie Kirkwood, lead actor Brian Silverman, VFX supervisor Blaise Hossain, and composer Chanda Dancy in a post-screening Q&A moderated by Prof. Jonathan Wysocki. Note the film is rated R for violence and language. 
Turning Red (2022): 7 p.m. February 23, Choi Auditorium—Occidental College Trustee, Pixar Senior VP of Development, and Producer Lindsey Collins '94 returns, along with Director and Pixar VP of Creative Domee Shi, to screen and discuss their critically acclaimed film Turning Red. Reflecting on their recent 2022 Academy Award Nomination for Best Animated Feature, Shi notes, "It's that validation, but it's also this evidence just to show big studios that look: You can make universal stories that star a diverse protagonist and feature a diverse creative leadership and these stories are universal stories." The screening will be preceded by a Q&A with Collins and Shi moderated by Prof. Vivian Lin. Please note the 7 p.m. start time, 30 minutes earlier than other series events. 
Manscaping (2022): 7:30 p.m. March 2, Choi Auditorium—Prof. Broderick Fox will screen and discuss the cultural implications of his feature documentary, fresh off a global festival tour including BFI Flare London and LA's own Outfest. The film won Best Documentary at Reel Q Pittsburgh, and Edge Media Network writes "In the process of combing through the insights his three subjects offer around grooming, body hair, gender identity, and gender presentation, Fox's film uncovers some poignant—and even startling—revelations about social roles, common spaces, and the breadth and depth of masculinity." Prof. Aleem Hossain will moderate a post-screening Q&A with Fox and Madin Lopez, founder and Executive Director of LA community organization ProjectQ. Note the film contains nudity and frank discussions and depictions of sexuality. 
The Grab (2022): 7:30 p.m. March 9, Choi Auditorium—Gabriela Cowperthwaite '93 will screen and discuss her latest feature documentary The Grab, which continues her tradition of changemaking media demonstrated by Blackfish (2013). In The Grab, Cowperthwaite follows journalist Nathan Halverson and his team at the Center for Investigative Reporting as they lay bare the mechanisms through which wealthy corporations and government forces are grabbing up land and water rights globally. The San Jose Mercury News writes, "As suspenseful as it is demanding and damning, Gabriela Cowperthwaite's gripper issues a wake-up call to the global community and offers testimony on why we need investigative journalism." The screening will be followed by a Q&A with Cowperthwaite moderated by Prof. Broderick Fox. 
Dramarama (2021): 7:30 p.m. March 23, Choi Auditorium—Visiting Professor Jonathan Wysocki will screen and discuss his feature film debut Dramarama, a nostalgic, funny love letter to drama nerds, late bloomers, and the intense friendships that mark our youth. OUT Magazine writes, "Jonathan Wysocki's Dramarama finally gives the closeted, gay Christian kids of America a story of their own." The screening will be followed by a Q&A with Wysocki and select cast/crew members moderated by Prof. Aleem Hossain. Note the film contains mild language and sexual innuendos.
Everything Everywhere All at Once (2022): 7:30pm April 6, Choi Auditorium—Zak Stoltz '10 returns to discuss his role as leader of the visual effects team on this year's acclaimed film Everything Everywhere All at Once, directed by Daniel Kwan and Daniel Scheinert. The Wrap writes, "How the visual effects for Everything Everywhere All at Once were created is just as incredible a story as anything that happens in the movie. As visual effects supervisor Zak Stoltz tells it, it was a small team of dedicated artists, who against all odds and with incredible limitations on time and money, managed to craft an unforgettable visual experience." The screening will be followed by a Q&A with Stoltz moderated by Prof. Amanda Tasse. Note the film is rated R for sexual material, language, and violence. 
Top image: Gabriela Cowperthwaite '93. Photo courtesy of Gabriela Cowperthwaite