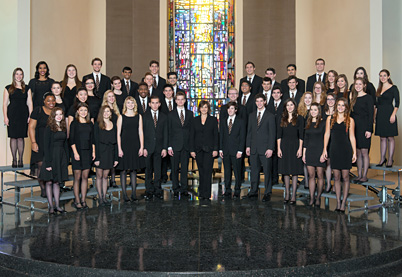 The Occidental College Glee Club is embarking on a nine-day magical history tour of Spain and Portugal in January 2014. 
The group will be performing in cathedrals, palaces and other historic venues across the Iberian Peninsula.
Highlights will include singing for Mass at the Royal Church of Los Jerónimos in Madrid on January 12, a joint concert with Spanish college students in Cordoba on January 13, another Mass as the guest choir at the Cathedral in Sevilla on January 14 and a concert at Palacio Foz in Lisbon on January 17.
"We are so excited about performing in Spain and Portugal!" says student tour manager Emily Fallick '16. "So many of us have not been to either country, and we are looking forward to experiencing it together through singing and music. We are thrilled by the opportunity to sing with Spanish and Portuguese college students, bridging the language barrier and our cultural differences through our shared love of music."
The group will begin their journey Friday, January 10 in Madrid and conclude Sunday, January 19 in Lisbon, experiencing local cuisine and culture such as paella and flamenco.
"One of the best parts of touring is singing our musical selections in new and unfamiliar venues with different acoustics," says Occidental's Director of Choral Music Desiree LaVertu. "The Glee Club will be singing classical pieces by the Spanish composers Victoria, Casals and Encina, and I am excited about presenting those works in the types of architectural spaces they were designed for. Another great part of the touring adventure is the bonding that takes place among the students as they spend so much time together. I personally enjoy spending this time with them and getting to know them more individually."