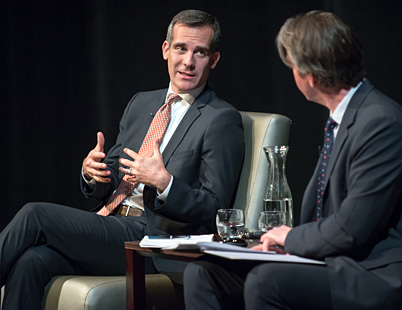 Los Angeles Mayor Eric Garcetti sat down with Los Angeles Times architecture critic Christopher Hawthorne in Occidental College's Keck Theater on February 13 to discuss ways to make the city a more pleasant place to live and work.
The functionality of Los Angeles has changed significantly since the days when the mayor was a kid in Encino, Garcetti said. Back then, you could hop on the freeway and "get pretty much anywhere in 20 minutes," he recalled.
Today, a "simple" commute from Calabasas to Culver City can take as long as two hours, he said.  "There's a limit to the old way of navigating the city," he said.  "We don't have the luxury of being able to move easily all over the city anymore like when I was growing up."
The city's design aesthetic should follow quality of life, the mayor said. "People don't think about the design of buildings, they think about how long it's going to take them to get home to their friends and family."
He sees two significant changes in Los Angeles' future: More self-sustaining neighborhoods and more transit.
Since traffic congestion has made driving so challenging, Garcetti said everything people need should be within walking distance of their homes –- not just Starbucks, but shops and parks. An upside of such a configuration would be tighter-knit communities where neighbors actually get to know each other, rather than the city's current "aloof" setup –- what Hawthorne calls "privatized urbanism." "People are hungry for some kind of meaning in their lives. This has always been a Libertarian city. That's shifting," Garcetti said.
He sees more transit as a major solution to traffic congestion. Widening freeways such as the 405 would just be akin to "throwing a bigger sponge in the ocean," Garcetti said. Getting rail to LAX "would be a game-changer," he said, as would putting in rail from the westside to downtown so that people "can get from Santa Monica to Disney Hall, Staples Center, in 40 minutes."
"Los Angeles is changing in some profound ways," Hawthorne agreed. "There is a sense of this transition happening. It is causing a great deal of anxiety, but a great deal of excitement as well. We will all be using the city in a different way, and it's exciting to think about what that will look like."