Submitted by kwall_admin on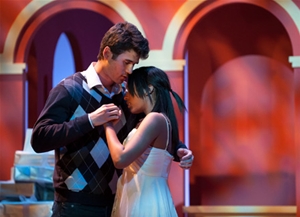 Big Love by Charles Mee opened at Occidental's Keck Theater on Saturday, April 21 and will run through May 19.
Directed by assistant theater professor Jamie Angell, Big Love is a surreal reworking of Aeschylus' The Supplicant Women, about 50 desperate and homicidal brides who flee to an Italian manor to avoid marrying their 50 cousins. Mee's modern retelling, in which the grooms ambush the brides by helicopter, raises issues of gender politics, the nature of love, and domestic violence.
"Charles Mee is one of the most exciting, provocative and challenging playwrights working today," Angell said. "Big Love is about Big Ideas and is Big Fun to perform. It is a collage of theatrical styles, expansive yet deep, that invites the active collaboration of actors, designers, director and audience."
The play was first produced at the Actor's Theatre of Louisville (Ky.) in 2000. It has been staged many times since and is one of Mee's most popular works, most of which are modern reinterpretations of classic Greek plays.
In Big Love, the 50 young Greek women being forced into marriage agree to slay their husbands on their wedding night. All but one carries out her promise--the 50th finds she loves her groom after all and spares him. The others accuse her of betrayal and a trial is hastily assembled. In the end, the judge's verdict takes note of the betrayal, the brutality of the crimes and the appalling circumstance that motivated the women and says she will render "no justice for the sake of peace."
The play examines marriage as a commercial undertaking organized by fathers, husbands and brothers for their own benefit. Whereas Aeschylus' maidens gave no specific reasons for refusing the marriages arranged by their fathers with their cousins, Mee's modern Greek maids offer arguments from lesbian feminists, love gurus and even American advertising.
"Big Love looks at the ancient themes of justice and revenge though the present-day lens of gender identity and the battle of the sexes, culminating in an explosive celebration of the ascendant properties of love itself," Angell said. "I felt the show would particularly appeal to the Oxy community because of its social conscience and physical humor, its combination of introspection and spectacle."
Costume design is by Laura Wong '08 and movement choreography by Lake Sharp '05.
The show continues its run on Friday and Saturday, April 27 and 28, at 7:30 p.m.; Sunday, April 29, at 2 p.m.; and Saturday, May 19 at 8:30 p.m. For tickets and information, call (323) 259-2922 or email theater@oxy.edu. Purchase tickets online at https://fs18.formsite.com/oxytheater/form2/secure_index.html.