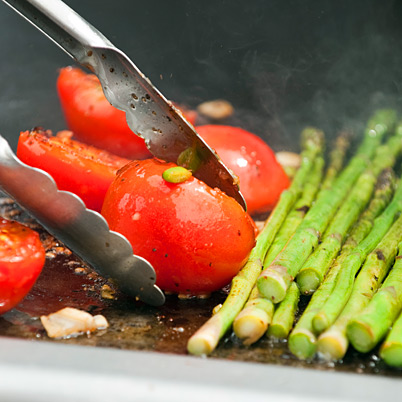 Occidental's Urban & Environmental Policy Institute will use a $225,000 grant from the California Endowment to instill a culture of healthy eating in local schools.
The grant will fund an Urban & Environmental Planning Institute/Healthy School Food Coalition effort to educate families, educators, and communities in the Boyle Heights and Figueroa Corridor neighborhoods about menu changes in school cafeterias in the Los Angeles Unified and Long Beach school districts.
"The quality and source of school food is going through major changes in places like the Los Angeles and Long Beach school districts, thanks in part to the community organizing and coalitions that we've helped facilitate at UEPI," says Robert Gottlieb, UEPI director and the Henry R. Luce Professor of Urban and Environmental Policy.
"Transforming the culture around healthy food and healthy eating is the next great challenge for activists and policymakers alike."
The new federal standards for school lunches, announced in January by First Lady Michelle Obama and the USDA, go into effect in July. They call for reducing amounts of saturated fats, trans fats, and sodium in foods; ensuring availability of fresh fruits and vegetables every day of the week; and serving appropriate portion sizes. 
"The California Endowment provided support to Occidental, the Healthy School Food Coalition, and California Food Policy Advocates to ensure the implementation of school food policies designed to increase access to healthier food options in schools," says Jennifer Ybarra, program officer at the California Endowment. "UEPI's work with parents and students has been instrumental in creating healthy eating environments in schools."
The project is UEPI's latest initiative to open lines of communication about healthy food and a culture of healthy eating. As childhood obesity rises to epidemic levels in the United States, children face health risks that were once thought to be adult diseases—including diabetes and cardiovascular disease—and the need for a cultural shift is crucial.  Schools play a critical role in providing safe, healthy environments for children, and UEPI has worked to bring about new policies and change school menus as well as the culture of unhealthy eating in schools for more than 10 years.
Working with UEPI over the last six years, L.A. Unified has increased its annual spending on fresh fruits and vegetables by more than $10 million. UEPI hopes to increase outreach into the Long Beach School District using L.A. Unified's success as a model. 
The California Endowment is a private, statewide health foundation that aims to expand access to affordable and quality health care in underserved communities and to promote health in the lives of all Californians.