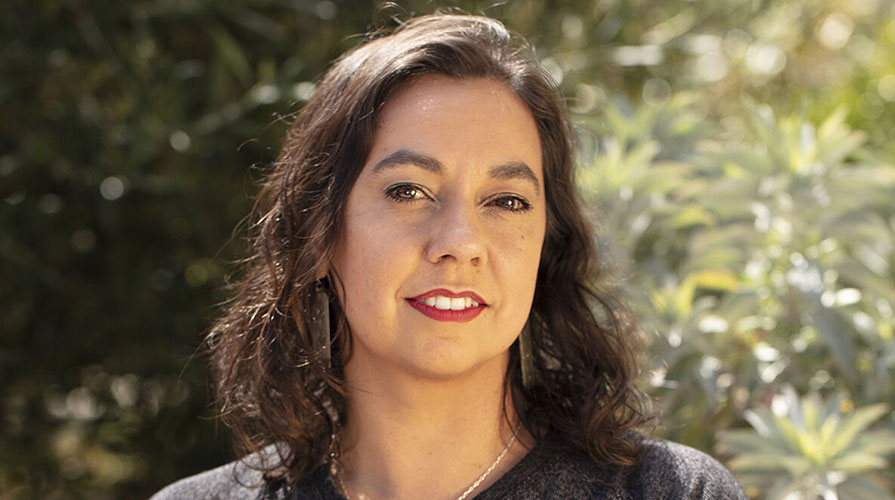 The yearlong residency program allows an artist to investigate aspects of their practice and share it with the College and community. The program encourages cross-campus collaboration and thoughtful sustained interaction between the artist, students and the community.
Mercedes Dorame, born in Los Angeles and a member of the Gabrielino-Tongva tribe, calls on her Tongva ancestry to engage the problematics of (in)visibility and ideas of cultural construction. She received her MFA from the San Francisco Art Institute and her undergraduate degree from UCLA.
OXY ARTS Director Meldia Yesayan calls Dorame's artistic practice a deeply moving exploration of heritage through contemporary expression.
"As this year's Wanlass Artist-in-Residence, her work promises to spark meaningful dialogue and provide opportunities for deeper connection and understanding of the work of Indigenous artists and culture bearers in our community," Yesayan says. "It is a great honor to be working in partnership with Dorame and the artists in this year's exhibitions and programs."
Dorame co-organized OXY ART's upcoming fall exhibition, The Iridescence of Knowing, along with Visiting Curator Joel Garcia. This exhibition invites visitors to explore the rich lineage of Indigenous cultural production in Tovaangar, known today as the greater Los Angeles basin. It brings together a collection of works from diverse artists from multiple generations and varied First Peoples communities of Southern California.
"It's been a profound honor to work collaboratively on this exhibition with so many important voices of First Peoples from the Southern California region," Dorame says. "I am thrilled to have these artists all in one exhibition and to explore the rich conversations that their works create in the gallery."
OXY ARTS will be presenting Dorame's solo show in the spring.
Dorame's work is in the permanent collections of the Hammer Museum, San Francisco Museum of Modern Art, The Triton Museum, The Allen Memorial Art Museum, The de Saisset Museum, The Montblanc Foundation Collection, and The Phoebe A. Hearst Museum. She is the recipient of grants and fellowships from: Creative Capital, the Montblanc Art Commission, the New York Foundation for the Arts, Loop Artist Residency, the James Phelan Award for California born visual artists, En Foco's New Works Photography Fellowship Awards program, Galería de la Raza, for her solo exhibition there, the Harpo Foundation for a residency at the Vermont Studio Center and from the Photography Department at the San Francisco Art Institute for her MFA Studies.
She is currently visiting faculty at CalArts, and was recently honored by UCLA as part of the centennial initiative "UCLA: Our Stories Our Impact", and was part of the Hammer Museum's 2018 Made in LA exhibition. She has shown her work internationally. Her writing has been featured in News From Native California and 580 Split and her artwork has been highlighted by PBS Newshour, Artforum, KCET Artbound, the New York Times, Art in America, Hyperallergic, KQED, Artsy, ARTnews, the Los Angeles Times, the SF Chronicle, among others.
Past Wanlass Artists in Residence have included Kenturah Davis, EJ Hill, Carolina Caycedo, Shizu Saldamando, Candice Lin and others.
The Wanlass Artist in Residence Program is made possible by generous support from the Kathryn Caine Wanlass Charitable Foundation.