Submitted by kwall_admin on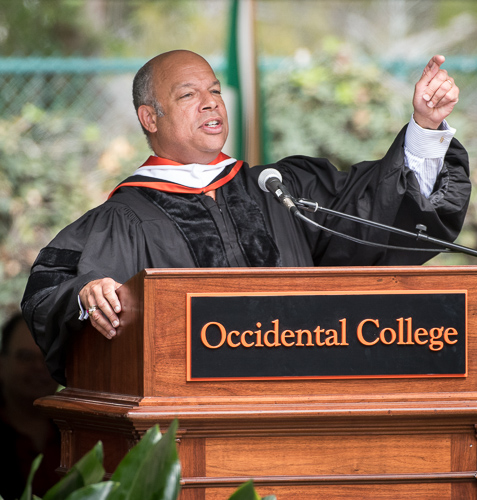 Homeland Security Secretary Jeh Johnson delivered a message of optimism and sage wisdom to the Class of 2015 at Occidental College's 133rd commencement ceremony on the Occidental campus Sunday.
Meeting with Occidental student leaders earlier this year to ask what he should talk about at graduation, one student asked how he remained hopeful in dealing with such a challenging job, Johnson told the 471 graduating seniors and 3,800 family members in the Remsen Bird Hillside Theater.
"Despite all these responsibilities and all the problems and headaches that come with them, I am confident and optimistic about our mission, about our future, about this country and about public service," Johnson said. "And I know that much can be achieved if you are willing to try."
Everyone has more within them than they realize, he said, pointing to himself, an indifferent student in high school. "You're looking at someone who used to be a C and D student," he said. "In high school, in my house, a C on my report card was a gift. The only time I ever heard my mother utter a four-letter word during her entire life was when she looked at my report card."
But he managed to turn things around during his last two years at Morehouse College, get into law school, and become a lawyer who turned his steps toward a career in public service.
"Consider a career in public service, in service to others," Johnson urged graduates.  "The thing I value most about my own career is my public service. No matter what I accomplish in private life, as a lawyer, I know that the first paragraph of my obituary will be about my public service. The opportunity to serve others and to make a difference is self-satisfying. It simply makes you a happy person."
A transcript of Johnson's remarks can be found here.
Occidental presented honorary degrees to Johnson, PIMCO Group Chief Investment Officer Daniel Ivascyn '91, and in an emotional tribute, a posthumous degree to U.S. Army Special Forces Staff Sgt. Scott Studenmund, killed in action in Afghanistan last year.
"I firmly believe that if each American did one more thing to solve our country's problems, we could have the country for whose aspirations Scott was willing to die," said his father, Woody Studenmund, Laurence de Rycke Professor of Economics at Occidental.