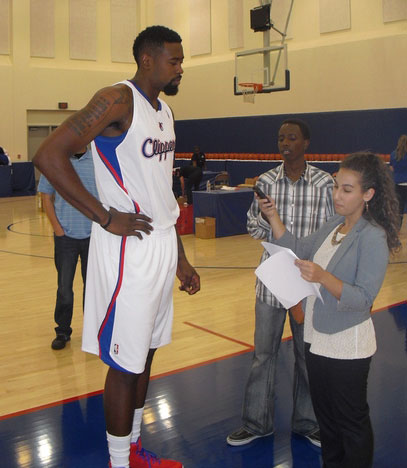 The NBA's Blake Griffin has a mean slam dunk. Chris Paul's side hop is nearly unstoppable. What does Mirin Fader '13 bring to the court? Great storytelling skills and a love of the game.
Last semester Fader interned with the Los Angeles Clippers, where she worked as a writer for the NBA team's website. Now, the English and comparative literary studies major spends her days researching Toni Morrison and her evenings reporting courtside at Oxy's Rush Gymnasium as the men's basketball beat writer.
"Other students that I do internships with go to the big schools with the big journalism programs," says Fader. "Learning how to write is what I learned here, so I think it worked out."
Standing at exactly 5-foot-0, Fader was often one of few females, the youngest, and sometimes the shortest person in the room during her time with the Clippers. She credits Michael Wells, Occidental's sports information director, for preparing her to hold her own among the likes of ESPN's Steven A. Smith and J.A. Adande, whom she recently found herself sitting between.
"Mirin is a fantastic writer with a particular knack for writing about basketball and sports in general," Wells says. "When you mix writing chops and sports knowledge you end up with great sports journalism. She's got both."
Although Fader may not have realized it when her fellow interns were laying out their knowledge of the inverted pyramid, she is a member of a distinguished line of Oxy journalists. Bessie Beatty 1907 covered the Russian Revolution for the San Francisco Examiner in 1917, Steve Coll '80  shared a Pulitzer for explanatory reporting for the Washington Post, and Patt Morrison '74 has long been a favorite columnist for the Los Angeles Times and L.A. radio host.
Much like her predecessors, Fader's narrative skills have already provided her with many unique opportunities. In addition to working for Oxy and the Clippers, Fader also interned for KABC-TV Sports, where she interviewed prominent sports figures such as Magic Johnson, Jerry West and Rick Neuheisel, and assisted in the production of the Sports Zone with Rob Fukuzak. In 2010, she was a finalist in KTLA Channel 5's Sportscaster for a Day Competition.
She has also contributed articles to Dime Magazine and the Los Angeles Sparks team website.
"Everyone knows the score of the game, everyone can read a box score," she says. "But it's different when you make a story out of it and that's what I've been learning how to do for the last couple years, and that's what I practice."
Fader says Wells could have told her to turn in her game recaps "when [she] had a chance," but instead he encouraged her to write her stories as though she were on a big-league deadline.
"Athletes always say that when you change levels from high school to college it's such a jump, but in the end once you get on the court, basketball is basketball," she says. "I feel the same way with going from covering Division 3 to covering the Clippers: The arena might be 10 times bigger, it might be 10 times louder, and I'm dealing with multimillionaires instead of Division 3 classmates, but in the end the game is still the game."
Fader, who played basketball at Lewis & Clark College prior to transferring to Oxy her sophomore year, is also helping other young women find their love of the game. She serves as a second-year assistant coach for the varsity girls basketball team at Polytechnic School in Pasadena.