Drawing from staff volunteers across the College, the Wayfinders Program provides incoming students with support and individual attention as they navigate the transition to college—during a global pandemic.
Heading to college can be a nerve-wracking experience under the best of circumstances. But COVID-19 pandemic brings added layers of complication and uncertainty for incoming students. Acknowledging this, Occidental is working to make the transition a little smoother for the Class of 2024.
"This year was so extraordinary, we knew we needed to do something to provide a sense of connection between students and the College at a time when we imagined many of them were struggling to figure out what college was going to be like," says Edmond Johnson, director of academic advising.
Johnson worked closely with Assistant Dean of Students and Director of Student Success Vivian Garay Santiago to develop and launch the Oxy Wayfinders Program, designed to provide personalized support and guidance for new Tigers during the summer before their first semester of college. Wayfinders have been interacting regularly with their assigned students, connecting them to key campus resources and answering questions about the Occidental experience.
Supported by volunteers from Oxy's staff, the program lets incoming students build relationships with members of the community and develop a sense of belonging in advance of the start of classes. Wayfinders meet with students via individual and small group video chats and provide them with important information through regular email correspondence.
"Our intent was to anchor students with a personal relationship at Oxy because there is so much that is unknown for them right now," says Garay Santiago. "It's really lovely because they are getting a lot of individual attention."
The volunteer response was impressive, Johnson said, yielding 74 Wayfinders from 30 departments and offices ranging from Campus Safety to Athletics, Library Special Collections and Facilities Management. Most Wayfinders are working with 7 to 8 students, all randomly assigned except for a dedicated group for transfer students.
Wayfinder June Wui, operations manager in the International Programs office, says she volunteered because this seemed like the best time to extend Oxy's "Culture of Care" beyond her job description. Her students seem very enthusiastic about starting their college life, she says, given that the pandemic doesn't look to be ending anytime soon.
"Many students are ready to begin wherever it's possible, which shows that our first-years are mature and prepared to do what it takes to enjoy what they can now."
Many aspects of the Oxy experience this fall are still uncertain, given the ever-changing nature of the pandemic. But Wayfinders are there to provide reassurance, share useful information and manage expectations.
"The idea is, 'We don't know all the answers, but we're all in this together and as things unfold we'll convey them to you,'" Garay Santiago says.
Wayfinder and Director of Student Leadership, Involvement and Community Engagement (SLICE) Marcus Rodriguez says that he wanted to be part of an initiative that connected staff and students in a very purposeful way, building trust and decreasing anxiety.
"The opportunity to engage with our students in a meaningful way is always special, but there is something uniquely inspirational about building a relationship with folks at this stage in their Oxy experience," he adds.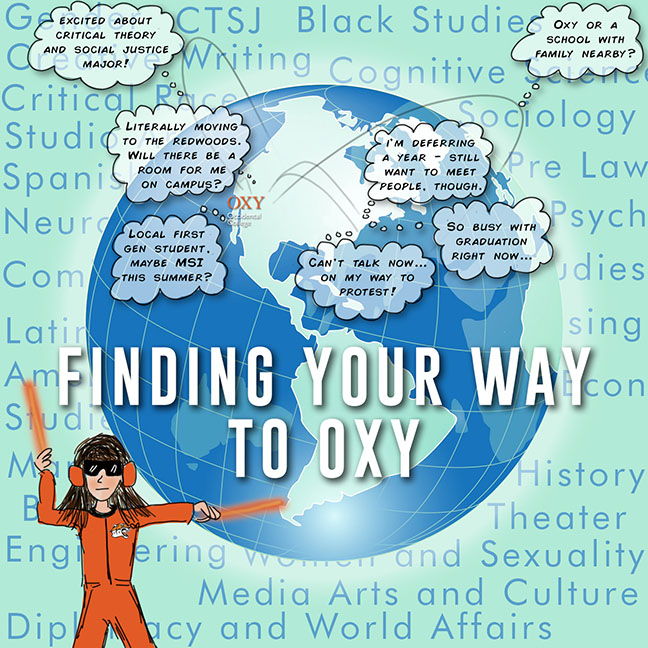 Incoming students are also getting to know their peers through the Wayfinder group chats. Garay Santiago says her students have already been connecting with each other on social media.
"More than ever, there's a desire among students to reach out to each other and start that community-building," says Johnson, "because they know it's not necessarily going to be the normal 'hang out in the dorm hallway together' experience."
Theater Technical Director Aubree Cedillo '95 has had video chats with students from Shenzhen to Pasadena. An "alumployee" and parent of Oxy students, she calls herself "a true believer in this place," where personal contact and support is a hallmark.
"I wanted to share with incoming students the special community that Oxy is," she says.
While Wayfinders are primarily active during the summer months, it is hoped that they will stay in touch with their students informally. Feedback has been positive so far, and the program may be incorporated for future incoming classes to optimize student satisfaction.
"I've enjoyed it so much and think it's working so well that I would advocate for it to continue," says Garay Santiago. "My students are going to evolve naturally. And they'll have a connection to me that I imagine will ebb and flow over the next four years."