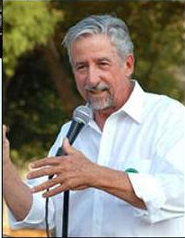 Social and political activist Tom Hayden will speak at Occidental on Thursday, November 29 at 7 p.m. in Weingart 117.
Hayden is the author of the 1960s manifesto The Port Huron Statement and has been a leader in the movements for democracy and progressive politics for half a century. As director of the Peace and Justice Resource Center in Culver City, he is still speaking out on such issues as ending the war in Afghanistan, erasing sweatshops, saving the environment, and reforming politics through a more participatory democracy.
Hayden served in the California state Assembly from 1982 to 1992 and the state Senate from 1992 to 2000.
He is the author of 19 books and hundreds of articles on a wide range of political topics, from the Vietnam War to civil rights to environmental justice to L.A.'s gang wars. His most recent book is The Long Sixties: From 1960 to Barack Obama.
"Tom Hayden changed America," wrote Nicolas Lemann in The Atlantic. He was "the single greatest figure of the 1960s student movement," according to a New York Times book review. The Nation magazine recently named him one of the 50 greatest progressives of the 20th century.
Hayden's talk, which is free and open to the public, is sponsored by the departments of history, politics, and urban and environmental policy.