Submitted by kwall_admin on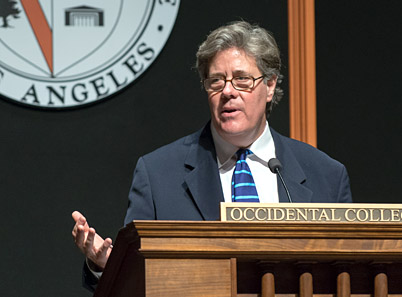 Obama biographer David Maraniss returned to the scene of one of the key chapters in his critically acclaimed Barack Obama: The Story when he spoke about his presidential portrait in Occidental College's Thorne Hall on Monday, October 29.
The talk by the bestselling author and Pulitzer Prize-winning journalist -- just one week before the November 6 election -- included a Q&A session and was followed by a book-signing in the Thorne lobby. In the audience were many of the president's friends and professors, who gathered for a private dinner with Maraniss later that evening.
"When people describe the president as professorial, I take that as a compliment," said Occidental President Jonathan Veitch, introducing Maraniss. "I am utterly unconcerned about whether he graduated from here or not. Sometimes it matters as much where you begin as where you end."
Maraniss agreed, saying in his remarks that Obama's first two years of college, at Occidental, "were a much deeper and richer experience" than his following two years at Columbia University.  "Oxy reinforced his international sensibility," he said. "Some of his friends were Pakistani, French, Indian, Chinese." He added: "His intellectual curiosity was really awakened here. The professors here, the older students he hung out with, awakened him in a very important way. He began to feel a sense of purpose, of destiny."
The president's two years as a student at Occidental are prominently featured in Maraniss' biography, which the New York Times called "a revelatory book, which anyone interested in modern politics will want to read, and which will certainly shape our understanding of President Obama's strengths, weaknesses and inscrutabilities."
Considering why Obama might have chosen to transfer to Columbia, Maraniss conjectured that it was not for any negative reasons associated with Occidental. Rather, "I think that Oxy was a little too comfortable, too beautiful—not close enough to the grit of American life. He thought going to Columbia and living in New York City would bring him closer to that." 
However, once at Columbia, Obama "receded into himself" and began an introspective journey to discover his racial, intellectual and cultural identity, Maraniss says, pointing out that "we talked to many people there, and very few remembered him." In contrast,  "Hundreds of people at Oxy remembered Barry."
Maraniss denied during the Q&A portion of his talk that he had tied the publication of his biography to the election, stating that "the timing was incidental. I'm a historian and a journalist." He stressed that he hadn't set out to write a political analysis, but rather was just "searching for the truth wherever I would find it and trying to write the real story." He also said that he did not get to "peek" at Obama's grades at Oxy, but that the president had told him in an interview that his GPA was 3.7.  The truth, Maraniss said, is that Obama is "an incredibly intelligent human being."
Maraniss, a Washington Post associate editor and fellow of the Society of American Historians, is the author of critically acclaimed and bestselling books on Bill Clinton, Vince Lombardi (which was turned into a Broadway musical), Vietnam and the '60s, Roberto Clemente, and the 1960 Rome Olympics.
He won the 1993 Pulitzer Prize for his coverage of Clinton, was part of the Post team that won the 2007 Pulitzer for coverage of the Virginia Tech tragedy, and has been a Pulitzer finalist on three other occasions.