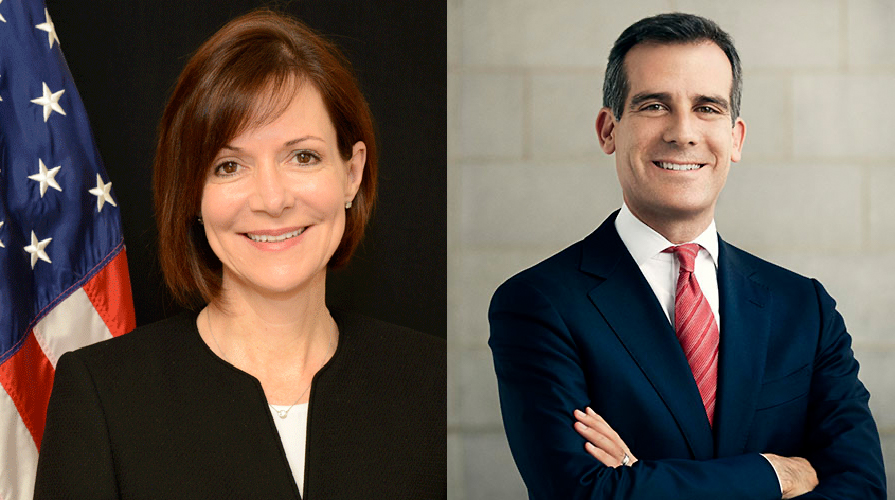 An Occidental College alumna and a former faculty member have been nominated by President Joe Biden to serve as U.S. ambassadors to France, Monaco and India.
Denise Campbell Bauer '86, who served as ambassador to Belgium under President Barack Obama '83, was nominated to serve as ambassador to France and Monaco. Los Angeles Mayor Eric Garcetti, who served as an adjunct assistant professor of diplomacy and world affairs from 1999-2000, was nominated as ambassador to India.
As the ambassador to Belgium from August 2013 until January 2017, Bauer focused on transatlantic security partnerships and international trade while leading one of largest embassies in Europe. She was confirmed unanimously by the U.S. Senate.
Her role as a diplomat followed several successful positions in journalism, nonprofits and politics. Her career began in Los Angeles, where she worked as a journalist for two leading television networks. She then held leadership positions with a number of nonprofits, including as president of the Belvedere Community Foundation.
In 2019, Bauer became the executive director of Women for Biden, a nationwide network of women that organized to elect President Biden. In 2012, she served in a similar role for the Obama-Biden presidential campaign, while also chairing the Women's Leadership Forum for the Democratic National Committee. Upon returning from Brussels in 2017, she re-engaged in politics, focusing on supporting women running for office for the first time. She currently serves on the advisory council of Occidental's Obama Scholars Program.
Garcetti is now in his second term as the city's 42nd mayor—the latest chapter in a public service career that began nearly two decades ago when he was first elected to the Los Angeles City Council.
In addition to serving on the faculty, Garcetti has recruited a number of Oxy alumni to city hall, notably Brenda Shockley '68, his deputy mayor for economic opportunity, and Rick Cole '78, who previously served as his deputy mayor for budget and innovation. Oxy students currently are working with the mayor's office to examine how Los Angeles can incorporate Global Sustainable Development Goals into its planning.
Occidental has a long history of producing ambassadors and other Foreign Service professionals, beginning with U. Alexis Johnson '31, who served as ambassador to Japan and Thailand, and classmate Toshiro Shimanouchi, Japanese ambassador to Norway.
David Aaron '60 is the former ambassador to the Organization for Economic Cooperation and Development and deputy national security advisor to President Jimmy Carter. David B. Dunn '71 is former ambassador to Togo and Zambia, and William M. Bellamy '72 served as ambassador to Kenya from 2003 to 2006. All three serve on the advisory board of Occidental's Office of Global Affairs.
In addition, Derek Shearer, Occidental's Chevalier Professor of Diplomacy and World Affairs, served as ambassador to Finland from 1994 to 1997.