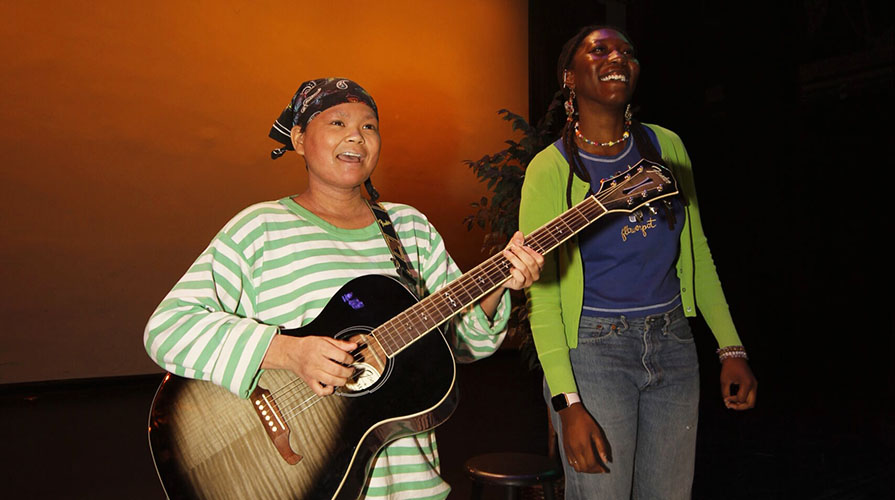 Oxy's annual Apollo Night talent show capped off Black History Month with diverse talents from a range of students.
This article was written for and originally published in The Occidental, the independent student-run newspaper at Occidental College. Read this article and more coverage online at theoccidentalnews.com.
By Jude George
Top image: First-years Alexis Chang and Shae Campbell.
At the Apollo Night talent show, participants walked across the stage at Thorne Hall to rub the show's lucky replica tree stump before beginning their performance, which the Black Student Alliance (BSA) at Occidental pre-recorded and livestreamed on YouTube Feb. 22.
Behind the performers at Apollo Night, the background screen glowed in a color perfectly chosen to match the tone of their performance, according to the event's director, organizer, videographer and film editor Nicholas Graves (junior). After the event ended, the hosts Melekete Gebremichale and Micah Wilson asked the audience to vote for the winner through a Google Form. Wils Acker (junior) and Bryce Endrizzi (junior) won first place, Shae Campbell (first year) and Alexis Chang (first year) won second and Paulson Cheung (sophomore) placed third. All the winners were singing acts.
Graves said Apollo Night is always on the last Friday of Black History Month and pays homage to the Apollo Theater –– the renowned music hall for live entertainment in Harlem that played an influential role in the emergence of genres of jazz, R&B, gospel, blues and soul from the 1930s and beyond, according to the Apollo Theater website.
According to Graves, BSA organizes the talent show Apollo Night every year as a way to showcase student talent on campus. Graves said Apollo Night was a great opportunity for both the videographers and performers to show their skills.
"I think that our main idea was to make sure that we get quality sound and video for [the performers]," Graves said. "A lot of them performed original songs, so being able to create some sort of video for them was really cool for them to be able to keep for themselves and also show other people as well."
Payton Johnson (junior), who was another videographer for the event alongside Graves and Evan Legrand (junior), said Apollo Night is a great opportunity for creative expression.
"Apollo Night to me is a time where people who just love to create, and express that creation, have a place, time, event," Johnson said. "This is an opportunity to really put that out on stage, and show people, 'Hey, I can do this.'"
Tzu Kit Chan (junior) performed a "Hamilton" medley on the piano for the event. An international student from Malaysia, he said "Hamilton" was one of the things that got him most excited about studying in the United States, and one of his fondest memories is singing along to the album in the car with his sisters. Chan said the BSA did amazing work putting the show together, from the planning and scheduling to the filmography and promotion.
"Something Apollo Night showed us is how diverse and how hidden talents can be," Chan said.
Acker and Endrizzi won first place with their original songs "let em in" and "Superpowers" — songs they said displayed different aspects of their talent and are featured on their upcoming EP, which will be released on all music platforms soon.
"I really feel grateful for the experience," Acker said. "Just taking it and growing from it and trying to use it to better our performance and the experience for the listeners."
Lee Chico (junior), a member of the boomwhacker club OxyBOOM that performed melodies of four songs, said he saw the performance at Apollo Night as a step forward for the club becoming more official.
"For audience members, it is really nice to see what people can do, outside of just seeing them walking around campus," Chico said.
Louis Nguyen (senior) performed a remix of "I Get Lonely" by Janet Jackson.
"It's just a really cool event, like — 'the' Oxy event in my eyes," Nguyen said. "For me, it's being able to pay my tribute to Janet Jackson on that stage."
Jaz Johnson (junior) sang her original song "Crying Again" on the ukulele. She said since Apollo Night multiple people have come up to her and said they recognized her from her performance.
"COVID [was] like two years of just playing my music to myself in my room," Johnson said. "Any opportunity to listen to other people's music and get out there, I'm for it."
Campbell and Chang won second place with a mashup of their original songs "These Days" and "Inspired." Chang said they were both nervous, but had a lot of fun at the event and hope Occidental will host more performance opportunities like this in the future.
"When else at Oxy do we see people just being talented and sharing their talents with each other? Having the entire student body being able to watch and hype them up?" Campbell said. "Even though it was virtual, I felt so much love from people in the same way that I would have felt if I was performing for them."