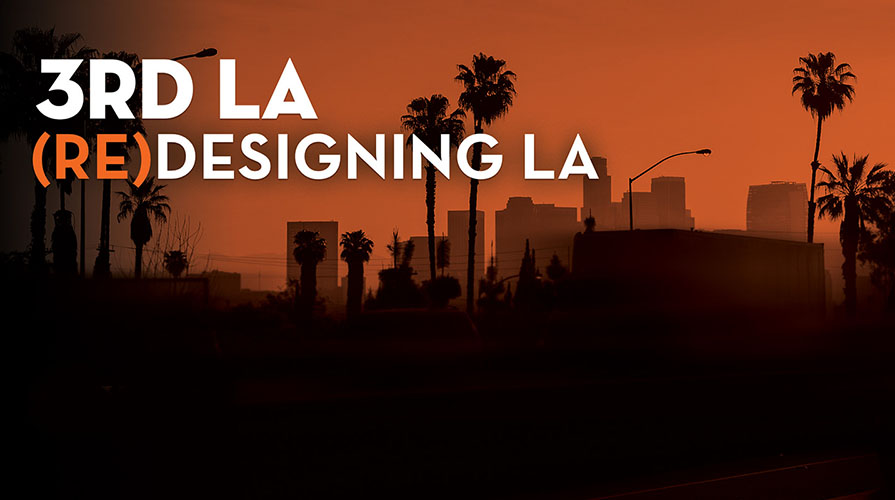 (Re)Designing LA, a public-events series led by Occidental College Professor of Practice Christopher Hawthorne, Los Angeles' first-ever chief design officer, will call on a broad cast of experts and activists to explore how the city can promote innovative design while addressing climate change and guarding against displacement and the erasure of neighborhood culture and history.
(Re)Designing LA marks the fourth year of Occidental's 3rd LA Project, launched by Hawthorne in 2015 during his tenure as architecture critic of the Los Angeles Times. He was appointed last year as chief design officer by Los Angeles Mayor Eric Garcetti. The series this year will be co-sponsored by Occidental and the Mayor's Office.
"We face a number of consequential decisions about the shape and future of Los Angeles over the next five to ten years," says Hawthorne, who is teaching an urban and environmental policy class titled (Re)Designing LA this spring. "I think there's widely shared perception that the city is in the midst of a major transitional moment. Occidental's 3rd LA series is helping to set the agenda for what those decisions might look like—and how they can be made in a way that's both inclusive and mindful of the great history of innovative design in Los Angeles."
The series, staged in venues across the city as well as at Occidental, has provided a unique forum to address the pent-up demand for thoughtful and timely discussions of where Los Angeles is today, where it's going, and how we might get there. Previously, 3rd LA has examined topics including the future of the Los Angeles River, street design and mobility, the complex legacy of Mike Davis' 1990 book City of Quartz and the homelessness crisis. It has upended traditional assumptions about how events of this kind are organized, relying on a mix of readings, debates, site visits and specially commissioned critical writing, video essays and other creative work.
"Christopher has a deep understanding of the key role this series plays in framing some of the most important challenges we face in building our city's future," says Los Angeles Mayor Eric Garcetti. "I have encouraged him to make public engagement of this kind a significant part of his role in the Mayor's Office, and Occidental College is an outstanding partner for this critical work."
Three new events this spring tackle some the region's most pressing and layered issues (additional events, to be announced later this year, will be held in the fall). Taking place on March 6, 27 and April 17, each begins at 7 p.m. and is free and open to the public with advance registration (see event pages for details).
The series begins on March 6 at Barnsdall Gallery Theater, next door to Frank Lloyd Wright's 1921 Hollyhock House, with a kickoff event entitled Is There an L.A. Sensibility? Place and Politics in Los Angeles Design. Architects, planners, critics and historians often praise works of architecture or urban design for suggesting an authentic sense of place — or knock them for lacking it. But what precisely does it mean for a design — of an apartment building, a park, a Metro line, a bus stop or a 2028 Olympic venue, or even a song or work of art — to reflect the spirit of Los Angeles, or of a specific site or neighborhood in the city? Given the long history of rapid change, displacement and mythmaking in Southern California, these questions can be more fraught and elusive here than in other American cities. What's more, the effort at so-called placemaking in new project design can run roughshod over community or architectural history, giving rise to a new phrase that many prefer: "placekeeping." Helping architects, designers, city officials and community leaders frame the question of place in a more nuanced, productive and inclusive way will be Los Angeles City Councilmember Marqueece Harris-Dawson (to discuss the Destination Crenshaw initiative), artists Rosten Woo, Janna Ireland and Ruben Ochoa, architect Frederick Fisher and Helen Leung and Elizabeth Timme of LA Más.
The series continues March 27 at the Museum of Contemporary Art's Ahmanson Auditorium with Strange Beauty: Making Sense of the L.A. architecture of the 1980s and 1990s. The city's Office of Historic Resources has compiled an extensive database of cultural and architectural resources, known as Survey L.A. This important effort runs through the year 1980, leaving open the question of how to catalogue and protect the rich variety of architecture produced between 1980 and 2000 by such figures as Frank Gehry, Charles Moore, Franklin Israel and the pair of Hank Koning and Julie Eizenberg, to name just a few. The Mayor's Office has begun an effort to map and analyze these more recent landmarks, many of which were difficult to appreciate even when they were new because they sought to challenge traditional notions of beauty or architectural context. Exploring this body of work at MOCA's Grand Avenue flagship — itself a classic of 1980s Los Angeles architecture designed by Arata Isozaki — will be panelists including architects Thom Mayne, Craig Hodgetts, Ming Fung, Eric Owen Moss and Jeffrey Inaba and (via Skype) critic and historian Charles Jencks, whose 1993 book Heteropolis remains one of the best studies of the L.A. architecture of this period.
The spring's 3rd L.A. schedule concludes April 17 with an on-campus event at Occidental's Choi Auditorium, Turn Off the Sunshine: Shade as an Equity Issue in a Warming Los Angeles. As climate change intensifies and Los Angeles suffers through more days of extreme heat each year, shade is quickly becoming an equity issue of crucial importance. How can we coordinate efforts to increase the tree canopy and update street-furniture design with other improvements to create a comprehensive strategy for providing shade where we need it most? How can designs to increase shade be incorporated into other large-scale planning efforts across the city and region, including Metro expansion, efforts to reimagine the Los Angeles River and the 2028 Summer Olympics? Panelists for this event (which takes its title from a 1942 book about Los Angeles by Timothy J. Turner) will include: Andy Lipkis, founder and president of Tree People; Sahra Sulaiman, communities editor for Streetsblog L.A.; Jennifer Pope McDowell, associate director of infrastructure in the Mayor's Office of City Services; and Gerdo Aquino, CEO of landscape and urban-design firm SWA Group.