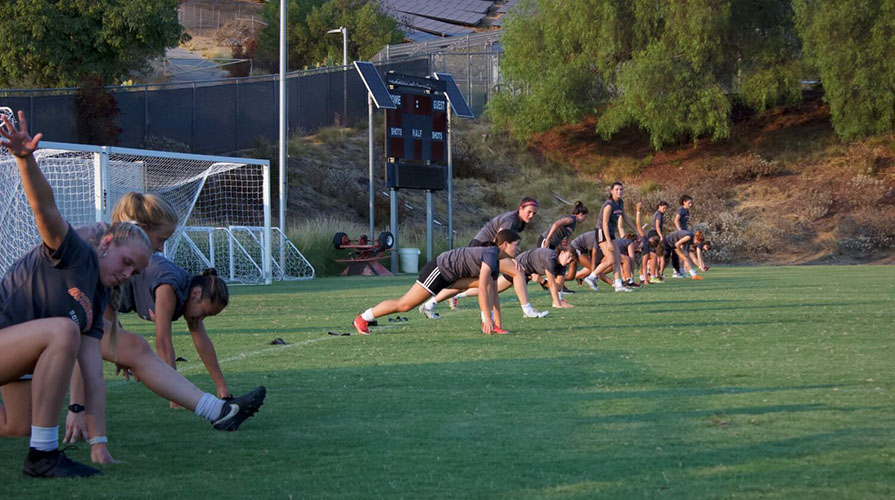 First-year student athletes from across the country are finally coming together on campus this fall to practice, play, and develop a bond.
This article was written for and originally published in The Occidental, the independent student-run newspaper at Occidental College. Read this article and more coverage online at theoccidentalnews.com.
By Alex Lin
A year ago, in Colorado, Chase Miller (first year) got up early every day to practice basketball before classes, and after a seven-and-a-half hour school day, he went on to practice distance running, his newly discovered hobby since the pandemic started. In New York City, 1,800 miles away, Sacha Serog (first year) went through trafficked roads to get to the Downtown United Soccer Club in Brooklyn to hone his soccer skills.
Closer to the Tigers' home turf, in San Diego, Landon Bell (first year) was swimming swiftly, looking for opportunities to score a goal as an offensive player in a water polo game. Miller, Serog and Bell are all members of Occidental's newest class of 2026. Along with dozens of other first-year student-athletes, they said they are starting the season feeling very supported by their teammates and coaches.
According to Robert Bartlett, head coach for men's and women's track & field and cross country, most first-year student-athletes visited Occidental while they were still in high school, and met with the coaches and the team as a part of the recruitment process. Bartlett said such earlier exposure to college can help with the transition.
Colm McFeely, assistant director of athletics and head women's soccer coach, said women's soccer used to host overnight visits for prospective students prior to the pandemic for them to have an immersive taste of college.
"[We would] connect her with a teammate who would host her for that evening, meeting the team, having dinner, go to classes with them, meeting professors," McFeely said. "In a 24, 36-hour period, they experience Oxy in a microcosm."
Bartlett said the cross country team has had various team-building activities including trips to the beach, mini-golf and group photos.
"We try to keep them busy, so they're not sitting around feeling homesick too much," Bartlett said. "But we also give them space to breathe, to set their room up and decompress from everything, as starting college is exciting."
In cross country, first years are already leading the performance. In the recent tri-meet between Occidental, Pomona-Pitzer and La Verne, Jenna LeNay, along with Emma Patton, Megan Cover and other first-years earned top positions in the women's 3.27k race. Chase Miller, Luke Seeley and others were within the top seven finishers out of 45 runners in the men's 4.65k race. Cover, who is on the pre-med track and a prospective veterinarian, said Occidental's warmth appealed to her — both in terms of weather and personal interactions.
"When I was walking around, people would go out of their way to start conversations, rather than just being in their head," Cover said.
However, due to the heavy time commitment of being a student-athlete, Cover said she is not able to fully utilize the available tutoring services. Dining costs can also be an issue, especially for student-athletes who have specific nutritional needs, according to Cover.
"I've noticed the writing center and SSAP hours are during practice," Cover said. "I've also found it challenging to balance the food you're eating in the dining hall with how much you're spending. It can be kind of expensive."
First-year soccer players have also contributed to the team's recent successes. In a 3–0 win in men's soccer over Bethesda on Sept. 1, two of the goals came from first-year Tyler Na-Nakornpanom, with one of them assisted by first-year Vicente Navarro.
Sacha Serog (first year), a defender on the soccer team, said although he was not able to visit Occidental when in high school, he learned about the school virtually and had contacted Rod Lafaurie, head coach for men's soccer, prior to starting college. A prospective kinesiology major, Serog said the combination of a place on the soccer team and a strong kinesiology program drew him to Occidental. Despite difficulties in signing up for classes in the first week, he is getting into a routine to balance studies and soccer.
"My goal is to get a B+ or above for chemistry and calculus, because they're tough," Serog said. "Athletically, I want to contribute to the team, hopefully getting a few goals and assists this season."
Lafaurie, junior and senior players have formed mentor-mentee relationships with first-years and sophomores, helping younger players navigate academic and athletic challenges. Lafaurie said he tells the team to prioritize their time allocation between academics, soccer and socializing to make the most out of Occidental.
"I always tell them, 'You can't be great at socializing, school and soccer, you can only be great at two of those,'" Lafaurie said. "Obviously, we hope they choose school and soccer."