Submitted by kwall_admin on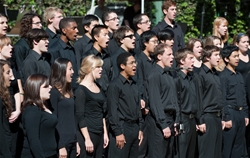 The Occidental Glee Club heads to the Emerald Isle on a 10-day tour to perform a cappella choral music in some of Ireland's most beautiful churches, a Benedictine monastery, and a traditional pub renowned for its live music. (Full details of the tour are below.)
This is the first time in three years that the 43-member strong choir has toured overseas, said Desiree LaVertu, Oxy's director of choral music. She chose Ireland because of the country's beauty, its historic churches and monasteries and its long tradition of choral music.
"Ireland has a certain mystique for students," she added. "And there's just a certain sense of magic about the culture."
The Glee Club will first perform Thursday, May 20, in the gothic church at Kylemore Abbey, a Benedictine monastery in Connemara. That evening, the Glee Club will sing at the 13th century Franciscan Abbey in Galway. The choir will also perform in Killarney at St. Mary's Church of Ireland, and the Oxy a cappella groups, the Accidentals and Cadence, will perform in the Danny Mann Pub.
On May 24, the Glee Club will perform in the 18th century St. Augustine's Church in Cork. The tour will conclude with a concert in the famed St. Patrick's Cathedral in Dublin - the national cathedral for the Church of Ireland.
The Glee Club will sing songs from the 16th century through the 21st century. They include "Lux Aurumque" by contemporary composer Eric Whitacre, motets and madrigals from the late Renaissance, and African-American spirituals such as "The Battle of Jericho" and "Take My Hand, Precious Lord," a favorite of European audiences.
The Oxy Glee Club tour, which cost about $3,000 per student, was partly funded by donations from Occidental alumni and other supporters -- and especially from Glee Club alumni of the class of 1960. "They were especially generous," LaVertu said, "and we're very grateful."
The Oxy Glee Club plans to blog about the experience at http://occidentalcollege-incantatotour.blogspot.com/. LaVertu hopes to schedule a Glee Club international tour every four years. In the intervening years, the choral group will tour regionally as well as nationally.
Here are the details of the Occidental Glee Club's Ireland Tour 2010:
• Thursday, May 20, Noon: Gothic Church, Kylemore Abbey, Connemara.
• Thursday, May 20, 7:30 p.m.: Franciscan Abbey, Galway
• Friday, May 21, 7:00 p.m.: St. Mary's Church of Ireland, Killarney
• Saturday, May 22, 8:00 p.m.: Danny Man Pub, Killarney
• Monday, May 24, 8:00 p.m.: St. Augustine's Church, Cork
• Tuesday, May 25, 1:00 p.m.: St. Patrick's Cathedral, Dublin
For more information about the Occidental Glee Club Ireland tour, go to: http://occidentalcollege-incantatotour.blogspot.com/
For more information about the Glee Club, go to www.departments.oxy.edu/choral