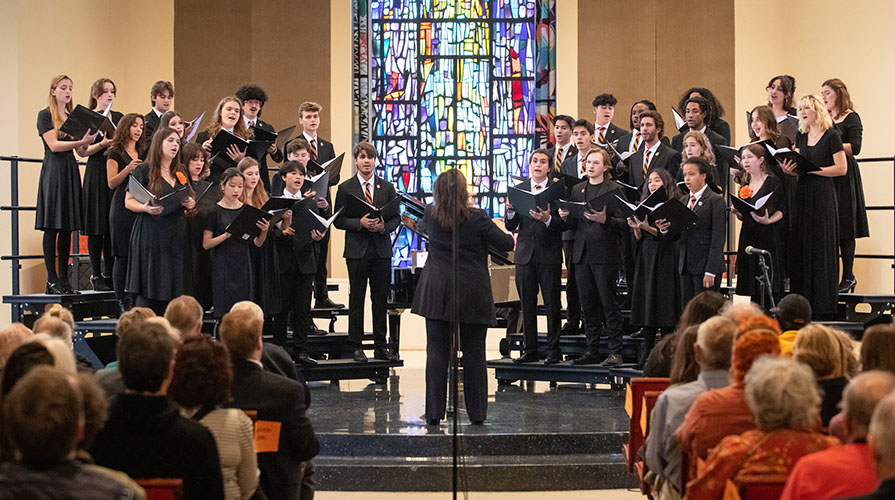 The Occidental College Glee Club will tour Louisiana, Alabama and Mississippi January 15-19, bringing its wide-ranging repertoire of a capella choral music to New Orleans, Mobile, Jackson, and Baton Rouge.
The Glee Club, directed by Desiree La Vertu, will perform its signature blend of classical and contemporary works, including music by Durufle, Brahms, Pentatonix and more. All concerts are free and open to the public.
The Glee Club is one of Occidental's oldest traditions. The group made its first appearance Oct. 26, 1906, when it sang at the inauguration of College President John Willis Baer. Among the eight charter members was Clarence Spaulding 1907, Occidental's first Rhodes scholar.
Touring is an important part of the Glee Club experience. Initially limited to dates in Southern California, for almost 80 years the group has toured different parts of the country as well as abroad. This will be the Glee Club's first tour since the start of the pandemic almost three years ago
Club members, who do not have to be music majors, commit a considerable amount of time to their music: one hour of rehearsal per week for women and men separately, 3.5 hours combined rehearsal per week, as well as performances, touring, and competitions.
The tour itinerary is as follows:
Sunday, January 15, 1 p.m.: St. Louis Cathedral, 615 Pere Antoine Alley, New Orleans
Monday, January 16: TBA, Mobile, Ala.
Tuesday, January 17, 7 p.m.: St. Andrews Episcopal Cathedral, 305 East Capitol St., Jackson, Miss. (Collaboration with the Mississippi Boys' Choir and Copiah-Lincoln College Choir) 
Wednesday, January 18, 12:30 p.m.: University First United Methodist Church, 3350 Dairymple Drive, Baton Rouge (Rehearsal exchange with LSU Chorale)
Wednesday, January 18, 7 p.m.: St. Alban's Chapel, 11 Dairymple Dr. & Highland Rd., Baton Rouge 
Thursday, January 19, 2 p.m.: Poydras Retirement Home, New Orleans, 5354 Magazine Street, New Orleans