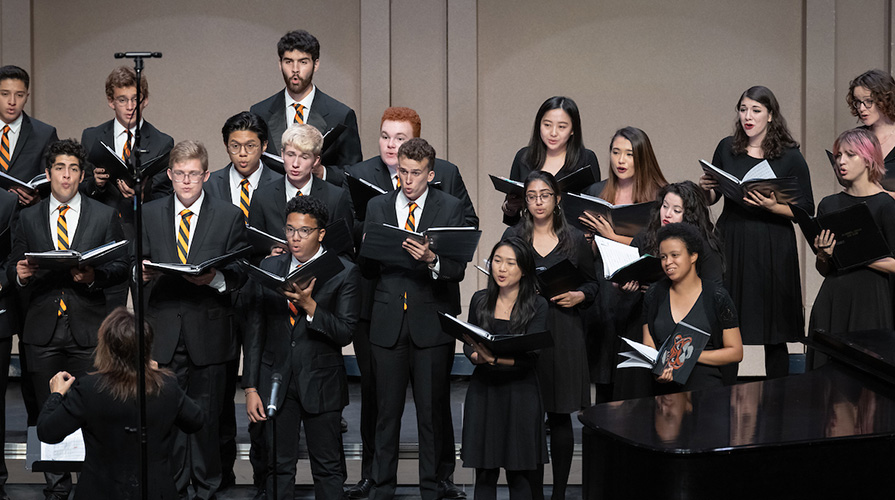 Since 1906, the Occidental Glee Club has played a central role in the life of the College, drawing musicians of the highest caliber and giving voice to our college spirit.
The Glee Club dates back over 100 years and each new group of singers adds to the group's history and legacy. Much has changed since the Glee Club was first established, but it has always been a group devoted to the study and performance of advanced choral repertoire, with the more recent addition of world and pop music. In order to achieve this exceptional level of quality, members in the group commit a considerable amount of time to the group. 4.5 hours class time per week as well as performances, traveling, and competitions means that the Glee Club is a serious time commitment...but members (both past and present) say it's worth it!
The Glee Club Community is an extremely welcoming, charismatic, and caring group. Our members play an active role in many organizations and offices on campus, and they represent majors from Theater and History to Physics and Politics and everything in between. Additionally, the Glee Club has come to be a significant presence on Oxy's campus and performs at a wide variety of campus events, as well as those around the community.
If you're interested in joining Glee Club, are a current member, or are one of our fans, you will find a number of helpful links below! If you're curious about College Chorus, Occidental's audition-free choir, you can find more information on the College Chorus page.
Follow us on social media! We are on Facebook page, Instagram and YouTube!
Want to hear more Glee Club recordings? The new Oxy CD has just been released. Contact director Desiree LaVertu to purchase a copy!
Fall 2019 and Tour 2020 Repertoire:
Jerusalem - McGlynn
Let the River Run - Carly Simon
Exultate Justi - Hakenberger
Beati Quorum via - Stanford
The Waking - Conte
A New Psalm - Berg
Son de la Vida - Galván
Mo-Li-Hua - trad. Chinese folk song
Loch Lomond - trad. Scottish folksong
Let my Love Be Heard - Runestad
True Colors - Steinberg/Kelly
Seasons of Love (from Rent)
O! What a Beautiful City - trad. African American
Pops 2019
Sunday (from Sunday in the Park with George) 
Dancing Queen - ABBA
Bad Romance/Toxic mashup - Lady Gaga/B Spears
Over the Rainbow - Judy Garland/Kamakawiwo'ole
Make it Holy - The Staves
Angel from Montgomery - Bonnie Raitt
Queen medley
Send Me on my Way (from Ice Age)
Florence & the Machine mashup
Fall 2018 and Tour 2019 Repertoire:
San'Bonani - trad Zulu greeting
Non nobis, Domine - Powell
Set me as a Seal- Clausen
Ecco Mormorar l'Onde – Monteverdi
Vita de la mia Vita - Hawley
We Have Come – Betinis
La Llorona – trad. Mexican folksong
Muusika - Uusberg
Across the Vast Eternal Sky - Gjeilo
City Called Heaven – trad. African American
Give Me Your Tired, Your Poor – Berlin
I Love You/ What a Wonderful World – arr C.H. Johnson
Pops 2018
Song of Purple Summer (from Spring Awakening)
River – Leon Bridges
A Quiet Place – Take Six
Just my Imagination – The Temptations
Circle Game - Joni Mitchell
End of Time - Beyonce
Don't You Worry bout a Thing – Stevie Wonder  
I Lived - One Republic
Time Warp (from Rocky Horror Show)
You Will Be Found (from Dear Evan Hansen)
Fall 2017 and Tour 2018
Dixit Dominus – Mozart
Dixit Maria – Hassler
Dies Irae – Lukáš
O Nata Lux – Lauridsen
Kyrie – Schubert
Tui Nati Vulnerati – Dvorak
Amazing Grace - trad. American
Daniel, Daniel, Servant of the Lord – trad. African American
I've been in the Storm so Long – trad. African American 
Man in the Mirror - Michael Jackson
Will the Circle Be Unbroken – trad. American
Bridge Over Troubled Water - Simon & Garfunkel
Pops 2017 Concert Repertoire
Pure Imagination from Willy Wonka and the Chocolate Factory
Scarborough Fair/Sound of Silence - Simon and Garfunkel
Mad World/Madness - Tears for Fears/Muse
Woods - Bon Iver
Hummed Low - Odessa
I Won't Give Up - Jason Mraz
Edge of Night - from The Lord of the Rings
Misty Mountains - from The Hobbit
Skyrim - Jeremy Soule
You've Got a Friend - Carole King
To Make You Feel my Love - Bob Dylan
Heroes - David Bowie
Freedom 90 - George Michael
Purple Rain - Prince
Somebody to Love - Queen
Tour 2017 Repertoire
Your Voices Tune – Handel
Jesus bleibet meine Freude - J.S. Bach
Selig sind die Toten - Schütz
Rytmus - Hrušovský
Os justi - Bruckner
Adinu​ - Sufi Melody
Salut Printemps - Debussy
Son de Camaguey - Cuban, arr. Hatfield
Te Quiero - Favero
The Parting Glass – Irish, arr. Sametz
Balleilakka – Rahman, arr. Sperry
Bright Morning Stars – American, arr. Kirchner
2016 Winter Concert celebrating the 50th Anniversary of the Herrick Chapel organ
Christmas Hymn (While by my Sheep) – traditional
Jesus bleibet meine Freude – J. S. Bach
Sir Christèmas - William Mathias
Ding Dong! Merrily on High - traditional French, arr. David Willcocks
Ma'oz tsur (Rock of Ages) - traditional Hanukkah Hymn, arr. Samuel Adler
Shalom, Friends - Lee Kesselman
Bidi Bom - David Eddleman
Winter Wonderland
Have Yourself a Merry Little Christmas
You're a Mean One, Mr. Grinch
White Christmas
Carol of the Bells