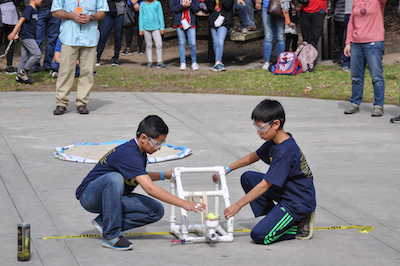 Occidental College will host the Los Angeles County Elementary Science Olympiad on Saturday, February 24. 
This is the eighth consecutive year Occidental has hosted the L.A. County Science Olympiad, but this year only students in first through fifth grades will be competing on campus. (Middle and high school students will compete at other area college campuses on different dates.)
Close to 1,000 students from over 70 elementary schools prepare for months for the tournament, which has about 20 events including Barge Building, Chopper Challenge, Rubber Band Catapult, Pasta (and Meatball) Mobile and the ever-popular Egg Drop. Among the new events this year are Food Webs ... Owl Pellets, No Bones About It, Making and Using a Key and Mystery Architecture.  
Students are grouped into 15-person school-based teams; usually two children from each team compete in individual events that require not just knowledge, but critical thinking and problem-solving skills. In particular, Science Olympiad engages students in science and engineering practices that mirror how scientists and engineers think and work, while stressing collaboration, communication and creativity.
Occidental and Caltech science and engineering professors and students and other local science educators will judge and officiate the competition, now in its 24th year. Events will be held across campus, both in buildings such as Thorne and Booth halls as well as in the Quad and other outdoor locations. A number of the tournament events are open to public viewing.
Students compete in events under the divisions of Science Processes and Thinking Skills, Science Concepts and Knowledge and Science Application and Technology.
In Barge Building, each team constructs a barge of aluminum foil that can support a cargo. They predict the amount of cargo the barge will hold and load cargo until the barge takes on water. In Food Web … Owl Pellets, teams of students try to determine the items in an owl's food chain/web. In Mystery Architecture, teams of students build the tallest, most stable tower from materials unknown to them prior to the competition.
The event that always draws the biggest crowd is the Egg Drop off of the library patio. Students must build a device that will cradle a raw egg so that it will hit a target on the ground when dropped off the wall, but not crack.
Individual medals are not awarded in individual events. Rather, all of the students on the team receive gold, silver or bronze based on the overall success of the team.
Several winning middle and high school teams go on to compete at the state finals in April. Winners of the state competition then battle other top teams May 18-19 at the 34th annual Science Olympiad National Tournament at Colorado State University. Besides a trophy and bragging rights, winners receive grants up to $2,000 for their school.
What began as a grassroots assembly of science teachers is now one of the premiere science competitions in the United States, providing rigorous, standards-based challenges to 7,000 teams in 50 states.