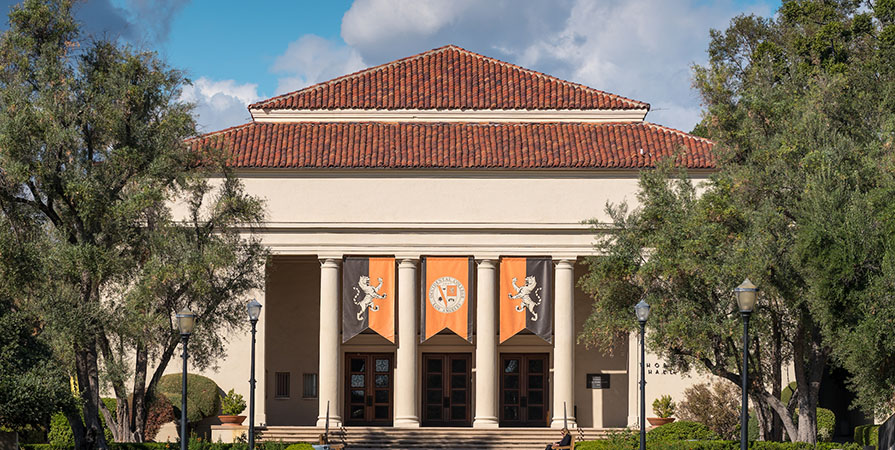 Occidental College will discontinue its football program, ending three years of deliberations about its future that ultimately reflect the unique challenges specific to Occidental football and the substantial financial impacts of the COVID-19 pandemic, President Harry J. Elam, Jr. announced Tuesday.
The difficult decision, backed by the school's Board of Trustees, leaves Occidental—a founding member of the Southern California Intercollegiate Athletic Conference (SCIAC)—with 20 men's and women's sports that compete at the NCAA Division III level.
"We maintain an unwavering commitment to athletics as a critical and necessary component of the Oxy liberal arts experience, and we fundamentally believe in maintaining strong and well-supported athletic programs," Elam said in a campus email sent after players and coaches had been notified. (Occidental is fully remote this fall as a result of the pandemic.)
"Only after very careful consideration and a thorough review of past planning efforts, as well as with the deepest regard for the context and history of football at Occidental, do we make this decision," Elam said. "As difficult as this decision is, we believe it is the right one for Occidental."
Making the announcement now, before the November early decision application deadline, ensures that those high school seniors and transfers considering Oxy football in their application process are fully informed.
Occidental cancelled the last four games of the 2017 football season as a result of the limited size of the injury-depleted roster and concerns about its ability to safely field a competitive team. In January 2018, a multi-constituent Athletics Task Force recommended continuing the program, provided that certain recruiting and fundraising goals were met.
In announcing the adoption of the task force recommendations, then-President Jonathan Veitch cautioned that "we can't lose sight of the significant challenges that still exist," including the College's insistence on maintaining its safety and academic standards, and declining participation in youth football programs—a trend that continues today. He concluded: "For all of these reasons, we will continue to monitor and revisit the viability of the football program as circumstances require."
With the generous support of alumni and parents and increased funding from the College, much-needed investments in equipment and personnel were made and Occidental has fielded a team for the past two years. However, a significant sustained financial investment from the College, above and beyond what has already been raised, is required to maintain a safe and competitive football program, even though the current football budget already represents almost 20% of total direct expenses for all 21 varsity teams, Elam pointed out.
"We want to offer the best possible experience for our student-athletes, and the College has determined that to do so for football would require a level of investment that is not sustainable, especially relative to other priorities and following the impact of the pandemic," Elam said.
The competitive gap between Oxy and other SCIAC programs remains, Elam said.
"We are often at a disadvantage competing against teams that draw upon larger pools of prospective student-athletes, or in some cases, have larger endowments and greater resources on which they can draw," he said. "As a result, despite the best efforts of our dedicated coaching staff, we have found it increasingly difficult to consistently recruit at the level we would need to be competitive."
In order to safely field a team roster of adequate depth to withstand inevitable injuries and the rigors of competition, Occidental would need to matriculate between 20-25 football players each year—roughly 5% of each incoming class.
Occidental is not the first nationally ranked liberal arts college to make the difficult decision to discontinue football, nor even the first SCIAC school to do so. Caltech stopped playing football in 1993. More recently, Swarthmore cut its football program—one of the country's oldest—in 2000; Colorado College discontinued its 126-year-old football program in 2008.
"Head Coach Rob Cushman and his staff have exhibited nothing but tremendous effort, dedication and professionalism and this is not a reflection on their efforts or actions. The same holds true for our student-athletes," Elam said. "This decision cannot and will not erase nor diminish the College's past achievements in football and the profound impact of the 126-year legacy of the sport at Occidental. We have and will continue to celebrate these achievements."
Occidental will revisit and update its 2014 Athletic Strategic Plan, which assessed the needs of the department and identified potential areas where additional resources could generate a competitive advantage. Occidental remains committed to athletics, Elam stressed. "The opening of Oxy's new De Mandel Aquatics Center and the expanded McKinnon Family Tennis Center are just the latest examples of the College's commitment to athletic excellence," he said.