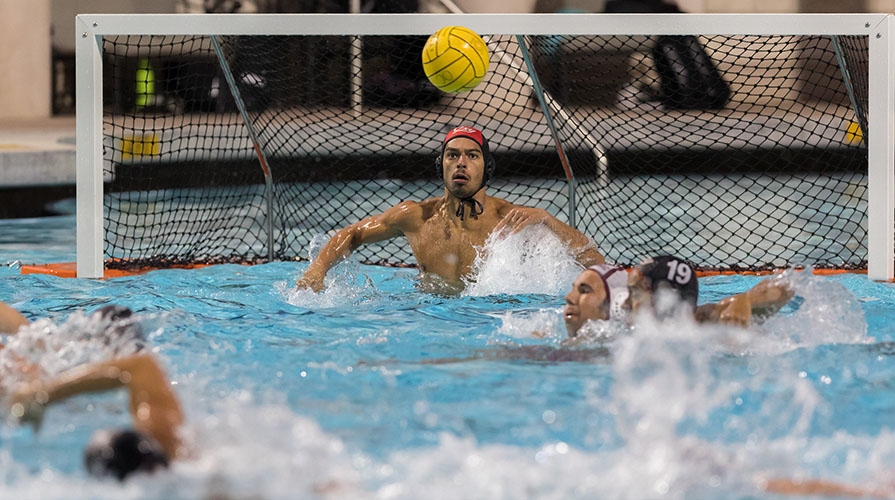 The Occidental College men's water polo team outscored Mt. San Antonio College 15-6 in their inaugural game at the De Mandel Aquatics Center Sept. 15.
This article was written for and originally published in The Occidental, the independent student-run newspaper at Occidental College. Read this article and more coverage online at theoccidentalnews.com.
The team established a 4-2 lead by the end of the first quarter and stayed ahead through the rest of the game. The scoring load was distributed across the roster, with 11 different players finding the net on the way to the win.
The Occidental College water polo team ranked seventh in this week's Collegiate Water Polo Association Men's Varsity Division III poll. Attacker Daniel Cruz (junior) said the team felt excited but nervous to be the first to play a game at the De Mandel Aquatics Center, which opened March 16.
"[It was] a lot of pressure being the first group to play in the new facility that's been awaited for decades now," Cruz said. "There was a lot of high emotion and pressure in the first quarter."
According to attacker Joseph Cox (senior), it meant a lot to the team to play surrounded by classmates and to have shared the moment with the college community.
"This is more than a singular game. This is the first game in the new pool and something that we're going to talk about for a long, long, time—for as long as this pool is around," Cox said. "It's just great to be a part of this small piece of history."
The De Mandel Aquatic Center began construction in September 2017 and has been promised to athletes for several decades now. Construction was delayed several times and now, the facility is finally open to Occidental students.
According to Cruz, Occidental's old competition pool—Taylor Pool—was substantially less well-equipped to facilitate swimming, diving and water polo team practices compared to the De Mandel Aquatics Center, which includes 15 practice lanes and 12 competitive swimming lanes.
"Being at Taylor pool was very limiting with how many kids we can have on the team and recruit," Cruz said. "At a certain point, if you don't have the space for all the players, you start having unproductive practices."
Cruz said that although athletes have been waiting for the new facility since his current head coach was a student, he is thankful to now be able to use the De Mandel Aquatics Center.
"When I was recruited, they had told me that I would be the first to play in the pool. Due to COVID and everything I had to wait until my junior year," Cruz said. "When I look at Jack [Stabenfeldt], he was promised the same thing and he played in 2010, and many guys before him were promised the same thing."
Attacker Dominic Rios (junior) said he has seen significant differences in water polo practices that are held at the new De Mandel Aquatic Center versus those that were held at Taylor Pool. According to Rios, Taylor Pool's narrowness often led to faulty spacing when the team played at different facilities. Fellow attacker Keegan Klein (junior) said the water polo team's harmony and organization has benefited from the De Mandel Aquatics Center.
"There's definitely more communication," Klein said. "It's nice to be able to fit the entire team in at the same time and to have all this space to move without having to cut anybody out."
Rios said that embracing the new facility has helped the team's performance.
"[The De Mandel Aquatics Center] is so much better than being in what we would sometimes call 'a bathtub' because six lanes is no space," Rios said. "[It means a lot] being able to execute everything we know about polo, play to our level because we have the facility now to back it up."
Swim & dive head coach Haley Mitchell said the facility has had an impact on cohesiveness during practices.
"When we were in Taylor Pool we had to split practices, half in the morning, half in the afternoon," Mitchell said. "[Now] it's just so much easier to get to know each other and disseminate information and bond and raise each other up for competitiveness."
According to Cox, the new facility has been integral to the team's success, and Klein said Klein said the De Mandel Aquatic Center has noticeably contributed to their success.
"Coming from Washington … there aren't that many pools that you can really play in," Klein said. "Growing up, it was really hard to actually get into my sport, but coming down here and having the new pool is definitely a huge change that actually affects me personally."
Cruz said that the feeling of practicing at the De Mandel Aquatics Center is incomparable to that of practicing in Taylor Pool.
"Now it's just pride. We have the nicest, newest facility, which just adds even more to our drive to perform this season," Cruz said.
Cox said he expects the De Mandel Aquatics Center to have a direct impact on the water polo team for years to come.
"It's a culmination of everything we've been working toward. When I first started at Oxy, the program was in a tumultuous place and for years now we've been trying to build a championship caliber program," Cox said. "The best part is that this new pool is only going to make us better, and from here on out, it's going to be a big part of this program."