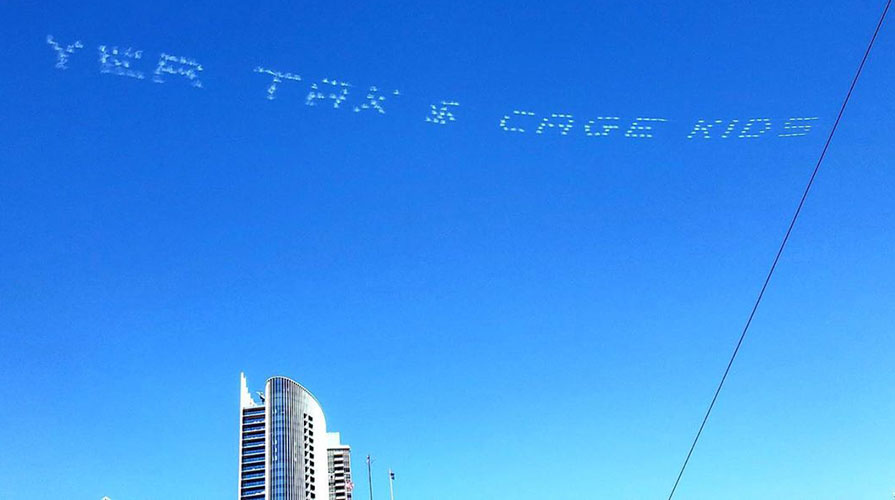 In partnership with Oxy Arts, a nationwide collective of 80 artists and activists will launch In Plain Sight on July 3-4—an ambitious site- and time-specific effort to make visible the injustices of the world's largest immigration detention system.
The project, led by Los Angeles-based visual artists Rafa Esparza (Occidental's 2016-17 Wanlass Artist in Residence) and Cassils, will begin with each artist using skywriting above 80 detention facilities across the country to make their own visual statement about America's migrant detention crisis.
Oxy Arts' participation as one of the principal presenters of In Plain Sight will continue through the summer and fall as host for a fall group exhibition of participating artists highlighting the project themes of migration, detention, and incarceration, panel discussions, performances and webinars. College faculty are also working with individual artists to integrate their work into the College curriculum, including first-year seminars focused on the issues of forced migration, refugee flows, and statelessness.
"The nature of the programming allows us to extend our definition of what performance and exhibition spaces are in the midst of the pandemic, while working with artists and activists addressing a critically important issue," said Meldia Yesayan, director of Oxy Arts, the College's multidisciplinary arts initiative. "As beneficiaries of institutional privilege and resources we have an obligation to identify and actively support and amplify the practices of artists and organizers doing the hard work of bringing attention to problematic structural systems in our society."
"This impressive group of artists, intent on creating a body of work of national artistic and political significance, welcomed Occidental as a partner because they recognize our community-based approach, our curricular open-mindedness and flexibility, and our mission," says Amy Lyford, associate professor of art and art history and department chair who is helping to lead the curricular collaboration.
A number of In Plain Sight's artists, including Cassils, Esparza, Beatriz Cortez, Ken Gonzales-Day, Yosimar Reyes, and Devon Tsuno, have taught, exhibited, spoken or performed at Occidental over the past several years. Another participating artist, Carolina Caycedo, is Oxy Arts' 2020-21 Wanlass Visiting Artist.
The project is also a logical outgrowth of Occidental's longstanding partnership with the Mellon Foundation, which just announced that it is adjusting its mission to prioritize social justice in all its grant-giving programs. Oxy Arts is using part of an existing five-year, arts and urban studies Mellon grant to underwrite the project.
Oxy Arts is the Lead Partner for In Plain Sight's Southern California events over the July 4 weekend, featuring work by Esparza, Cassils and 14 other artists and activists. Documentation from all 80 artists and sites across the country will be featured via Oxy Arts' black box video projection in the Oxy Arts gallery, 4757 York Boulevard in Highland Park beginning on Monday, July 6.
In the meantime, Occidental faculty are working directly with a large group of In Plain Sight artists who have already indicated a willingness to engage with Oxy students. "We're thinking creatively with faculty in a number of departments about how to embed this incredible opportunity into coursework for our students," Lyford said. "We're approaching this in terms of an interdisciplinary, cross-pollinating project that encompasses the visual arts, film, photography, the spoken and written word, performance and art history, both online and in-person."