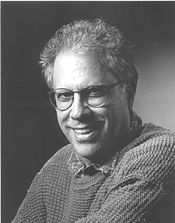 The California Studies Association bestowed its annual Carey McWilliams Award on Robert Gottlieb, the Henry Luce Professor of Urban and Environmental Policy and director of the Urban & Environmental Policy Institute at Occidental College, at its annual meeting in Oakland on April 28.   
This prestigious award is named for Carey McWilliams (1905-1980), the influential chronicler of California culture and politics.  An author, editor and lawyer, McWilliams is best known for his writings about the condition of California's migrant farmworkers, the internment of Japanese Americans during World War II and the discrimination by employers, realtors, and police against African Americans and Mexican immigrants in Los Angeles.
"It's particularly heartening for me to receive an award in Carey McWilliams' name since I've always seen him as a model of the activist researcher and public intellectual," Gottlieb said.
Previous winners of the McWilliams Award include Peter Schrag, Luis Valdez, Kevin Starr, Mike Davis, Richard Walker, Gerald Haslam, Jeff Lustig, and James Houston and  Jeanne Wakatsuki Houston.
"Bob is a noble exemplar of the McWilliams tradition," said Peter Dreier, the E.P. Clapp Distinguished Professor of Politics at Occidental.  "Bob's first book, Thinking Big: The Story of the Los Angeles Times (1977) was the first volume to tell the story of the Times and its critical role in the explosion of a small cattle town into the nation's second-largest metropolis. A masterful work of scholarship and investigative reporting, it revealed in fascinating detail how the legendary Harrison Gray Otis, Harry Chandler and their cohorts first orchestrated the development of Southern California."
In addition, according to Dreier, Gottlieb's groundbreaking book, Forcing the Spring: The Transformation of the American Environmental Movement (1993), "is still the most widely read history and reinterpretation of the environmental movement, used in many college classes around the country."
Gottlieb's other books include Empires in the Sun: The Rise of the New American West (1982), America's Saints: The Rise of Mormon Power (1984), A Life of Its Own: The Politics and Power of Water (1988), Reducing Toxics: A New Approach to Policy and Industrial Decision-Making (1995), Environmentalism Unbound: Exploring New Pathways for Change (2001), Reinventing Los Angeles: Nature and Community in the Global City (2007) and Food Justice (2010).
In addition to being a prolific author, Gottlieb is a longtime environmental and social justice activist.  From 1980 to 1987, he served as Santa Monica's representative on the Metropolitan Water District.  He also as served on the Community Funding Board of Liberty Hill Foundation, co-founded the Midnight Special Bookstore in Santa Monica, and spearheaded the successful initiative to improve the meals served in the Santa Monica public schools by linking the school district to local farmers who provide fresh produce. The Santa Monica program is now a model for school districts around the state and country, catalyzed by Occidental's Farm-to-School project, funded in part by the U.S. Department of Agriculture and the Kellogg Foundation.