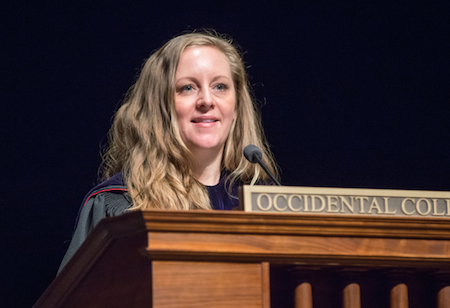 Lisa Wade, an Occidental College assistant sociology professor, has been honored with the Pacific Sociological Association's Early Career Award for Innovation in Teaching Sociology in recognition of her creative and novel teaching methods.
The Sacramento, Calif.-based association bestows the award each year to faculty with fewer than seven years of teaching experience. Wade began teaching at Occidental in 2006, after receiving a Ph.D. from the University of Wisconsin, Madison.
Her classroom teaching relies heavily on student engagement, noted Dolores Trevizo, associate professor and chair of the College's Sociology Department. For example, Wade often divides a class into four groups, and assigns them different academic readings, which the student groups must then explain to the others.
"She turns students into critical thinkers by forcing them to present on dense sociological material," Trevizo wrote in a letter to the association recommending Wade for the award.
Wade's teaching also reaches around the globe through the popular blog she founded in 2007, "Sociological Images," at http://contexts.org/socimages/. She co-authors the blog, which is sponsored by the American Sociological Association's Contexts magazine, with Gwen Sharp, an assistant sociology professor at Nevada State College in Henderson.
Subtitled "Inspiring Sociological Imaginations Everywhere," the blog documents how race, gender and other issues are reflected in society and pop culture, and in advertisements, commercials and other media. Visitors of the blog, who number a half-million a month, or 18,000 per day, often also comment. "Sociological Images" has been highlighted in influential news and culture blogs, including Boingboing.com and Feministing.com. Some of the blog's posts are also re-published on Jezebel.com, a celebrity, sex and fashion blog.
A recent post, for example, showed photos from a research study called "The Police Officer's Dilemma." Research participants were shown six photos of men - black and white - some armed with guns, some unarmed, at a shooting range, an apartment complex, and at other settings. The participants had to quickly decide whether or not to "shoot" the men based on whether they were armed. Another blog post showed a children's book on Native American history featuring photos of white children in traditional Native American clothing.
"The blog was initially meant for sociological instructors, but it immediately started to take off and has morphed into an educational tool for everyone," Wade said. "It's wonderful to be recognized for my teaching both inside and outside the classroom."