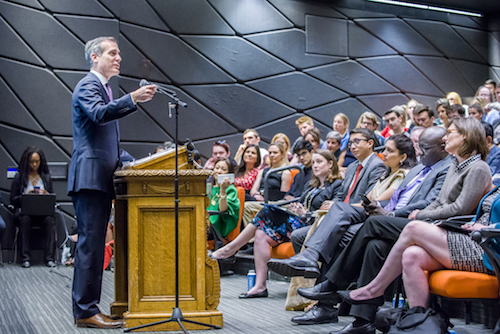 Occidental College students worked with Los Angeles city officials over the summer in a continuing effort to accelerate and measure the city's pursuit of sustainable, inclusive, and equitable growth as part of a unique global initiative backed by 193 countries.
A team of six Oxy undergraduates and 10 graduate students from USC, UCLA and Arizona State worked with Mayor Eric Garcetti's office to identify actionable gaps between city policies and programs and Global Sustainable Development Goals (SDGs). Adopted by all U.N. member nations in 2015, the 17 SDGs call on the public, private, and nonprofit sectors to address challenges that range from ending hunger and reducing inequality to building resilient infrastructure and combating climate change.
"Major urban centers like Los Angeles represent an opportunity to address global issues in ways that could potentially impact millions of people," says Anthony Tirado Chase, interim chair of the Young Initiative on the Global Political Economy and professor of diplomacy and world affairs. "The work Oxy students are engaged in right now can make a real difference."
Garcetti announced the partnership with Occidental last February in a campus speech. It first took shape in the research conducted by students of a diplomacy and world affairs course led by Sanjeev Khagram, former John Parke Young Chair in Global Political Economy. Their findings laid the groundwork for the summer's mapping of stakeholders, indicators, and thematic issues in Los Angeles.

The six Occidental students -- Chidire Ezeh '19, a DWA major from Windsor Mill, MD; Juliah Lee '19, a DWA and cognitive science double major from Cypress; Gaea Morales '18, a DWA and French studies double major from Manila, Philippines; Zachary Solomon '19, a DWA major from Portland, Ore.; Snigdha Suvarna '20, an economics major from Troy, Mich.; and Haiyi Zhao '19, a DWA and psychology double major from Pasadena -- began the summer with a thorough investigation of the 169 SDG goal targets. Students worked to determine which of the goals are applicable in Los Angeles, may apply with adaptation and revision, and can be added to better reflect the needs and priorities of the city.

Students then focused on the work of stakeholders from the private, public, and nonprofit sectors in the city, and how the SDG framework can inform and advance the work that is already underway. They interviewed key actors and partners to map existing programs, gauge awareness of, and receptivity to, SDG goals, and identify which organizations are already working to implement SDGs.

This research served as the foundation for cross-sector meetings to brainstorm policy recommendations for the city. "Although the city is already on its way to achieving global goals, many of those efforts are unfolding in relative isolation," said Ezeh, who studied the public sector. The need for more public-private partnerships and other findings were presented to the Conrad Hilton Foundation, one of the chief funders of the effort, on August 13.

Next on the agenda is a DWA course on social enterprise that will be taught next spring by newly appointed Young Initiative Senior Fellow Lily Lapenna, founder of Block for Impact and award-winning youth financial education entrepreneur. Lapenna's course will help students better understand the role of public-private partnerships in working toward the goals, and how blockchain technology and the tech industry as a whole can inform SDG integration into city policy.