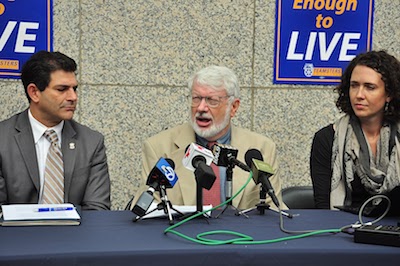 More than two-thirds of University of California staff in clerical, administrative and support positions struggle to put enough food on the table, according to a new Occidental College study released Monday.
The study, led by Peter Dreier, E.P. Clapp Distinguished Professor of Politics and chair of Occidental's Urban & Environmental Policy Department, found that nearly half (45%) of 2,890 employees surveyed throughout the 10-campus UC system (the third-largest employer in the state) actually went hungry at times. Another 25% said they were forced to reduce the quality of what they ate.
This was in spite of the fact that most of those surveyed were full-time employees with college degrees who made an average of $22 an hour.
Dreier, who conducted the study with Urban and Environmental Policy Institute colleagues Megan Bomba and Rosa Romero and the International Brotherhood of Teamsters Local 2010, said that the results point to a systematic problem and that people are not being paid "a living wage so that they can afford to feed their families."
Dreier in part blamed the problem on California's high housing costs, which eat up a significant portion of workers' income and make it difficult for them to feed themselves and their families adequately.
"Food insecure UC employees often had to make difficult decisions with regard to paying for medicine or medical care, paying rent, paying bills and providing food for their household," Dreier wrote in the study.
The study also found:
The level of food insecurity among the UC employees surveyed is more than five times higher than that of California residents and among the nation as a whole.
Nearly 80% of those surveyed had to choose between buying food and paying rent or utilities.
Almost 70% had trouble concentrating at work at times because of hunger.
About eight in 10 African Americans and Latinos, and six of 10 whites and Asians, struggled with food insecurity.
Food insecurity rates were higher among women (71.3%) than men (65.8%).
Nearly 9 in 10 single-parent households reported food insecurity.
"The people of California, the UC Board of Regents, and administrators of the University of California, need to decide whether this situation at a public institution is acceptable," the study concludes. "If it is not acceptable, then they need to decide what actions to take to address this problem."