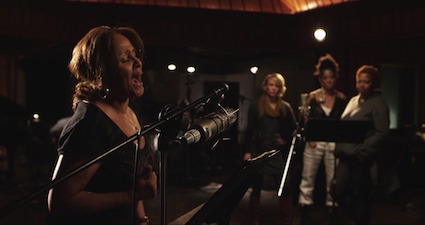 Caitrin Rogers '04, co-producer of 20 Feet From Stardom, about six professional backup singers, won the Academy Award for Best Documentary Feature at the 86th annual Academy Awards on March 2. 
Rogers shared the award with director Morgan Neville and co-producer Gil Friesen. The team also won the Independent Spirit Award for Best Documentary on March 1 and the Critics' Choice Award in January.
The six singers featured in the documentary span generations of music and have worked with a broad spectrum of artists including the Rolling Stones, Michael Jackson, Phil Spector, Stevie Wonder, Sting and Ike and Tina Turner.
Rogers was not the only Tiger in the audience at Sunday's ceremony. Erik Nash '84 was nominated for the third time—one of a team of four who were nominated for visual effects for Iron Man 3.
Oxy's relationship with Oscar dates back to 1971, when Marcel Ophuls '50's The Sorrow and the Pity was nominated for Best Documentary Feature. Ophuls went on to win in 1988 for his documentary Hotel Terminus: The Life and Times of Klaus Barbie.
Other Oxy Oscar winners include Mike Hoover '65 (Best Short Film for his 1984 live-action production, Up); George Stevens Jr. '53 (a 2012 honorary Oscar for lifetime achievement for founding the American Film Institute and the Kennedy Center Honors); and Ben Affleck '95 (a 1997 Best Original Screenplay award he shared with Matt Damon for Good Will Hunting and a 2012 Best Picture nod for Argo).