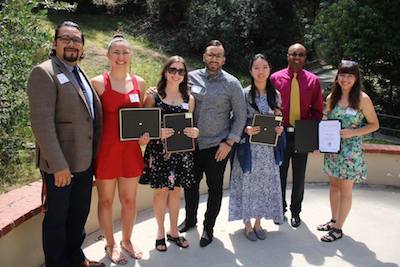 Occidental College students who have demonstrated outstanding leadership as well as academic and interpersonal skills were honored at the 2015-2016 Division of Student Affairs Leadership Awards on Thursday, April 21.
In remarks at a special luncheon, faculty and administrators noted the students' selflessness, positivity, diligence, drive, kindness and grace. As one remarked of Emerging Leader of the Year Award winner Jarron Williams: "He is humble and practical and encourages others to join him in their endeavors and be their best selves."
The student awardees are:
Charles W. List Memorial Award
Alan Bliss '19 of Dallas
Sabrina Degnan '19 of Atascadero
Anthea Taeuber '19 of Redding, Conn.
Olivia Wilk
 '19
Cynthia Cox Memorial Award
Flynn Aldrich '18, a history major from Montpelier, VT
Joscelyn Guzman '18, a religious studies major from Modesto
Nicole Lin '18
Sara Packer 
'18
, a mathematics major from San Rafael
Daniel Stewart Hammack Memorial Award
Haarika Reddy
 '17, a Japanese and critical theory and social justice double major from Albuquerque (currently studying abroad in Japan)
Unsung Champions of the Year Award
Sabrina Degnan '19 of Atascadero


Emerging Leader of the Year Award
Jarron Williams '18, an urban and environmental policy major from La Place, La.
Capstone Leader of the Year Award 

Judy Lee '17, a psychology major from Portland, Ore.
Dylan Bruce '16, a biology and theater double major from Ferryville, Wis.


Dean's Awards
For Excellence

Shilpa Bhongir '16, an economics major from Northridge
For Community

Olivia Smith '16, a mathematics major from Seattle
For Service

Somer Greene '16, an independent pattern of study major from Irvine


For Equity

Aaron Hammonds '16, a sociology major from Pasadena
The List award for first-year students was established by two sisters and a daughter of Charles List 1908. The Cox Award for sophomores was created in 1980 in memory of Cynthia Cox '72 by her parents and friends. The Hammack award for juniors was established in 1955 by Mrs. Daniel S. Hammack, Dan S. Hammack Jr., and friends as a memorial to Daniel Steward Hammack 1905.