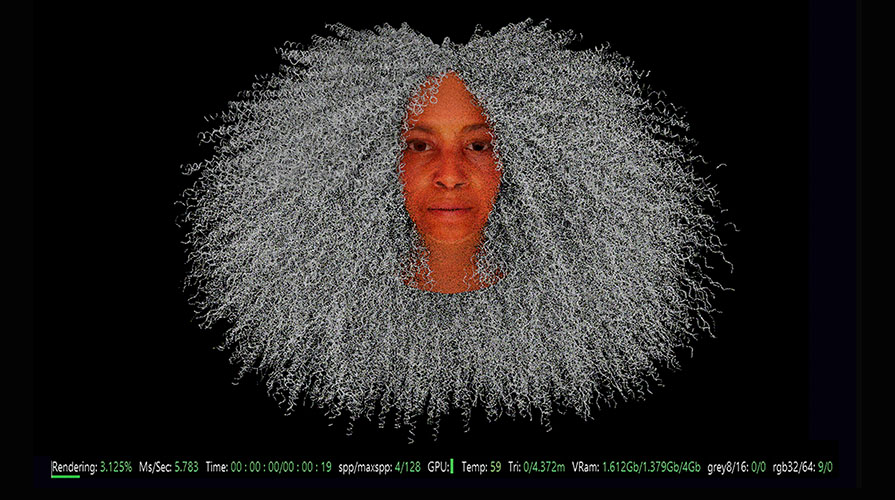 OXY ARTS, Occidental College's public art space rooted in social justice and community organizing, is pleased to announce Encoding Futures, a two-part exhibition and public program series featuring artists working across artificial intelligence systems and augmented reality to propose more just visions of the future.
On view from September 16 to November 19 in OXY ARTS' Highland Park galleries, Critical Imaginaries of AI is an exhibition that assembles the work of artists who map the limits of our current algorithmic imaginaries, and envision speculative futures engineered for just outcomes. Featured artists include Algorithmic Justice League, Stephanie Dinkins, Aroussiak Gabrielian, Maya Ganesh, Kite, Lauren Lee McCarthy, Caroline Sinders, Niama Safia Sandy and Astria Suparak.
Launching September 19 across the city, Encoding Futures: Speculative Monuments for L.A. is a series of newly commissioned virtual monuments that, through augmented reality, will transform sites around Los Angeles with the hope of foregrounding a radically equitable future sited in an emergent present. Featured artists include Nancy Baker Cahill, Audrey Chan, Joel Garcia with Meztli Projects and Patrick Martinez.
Co-curated by OXY ARTS and Mashinka Firunts Hakopian, Mellon Professor of the Practice at Occidental, Encoding Futures will include a physical reading room inside the York Boulevard galleries, alongside a digital syllabus that includes readings, podcasts and other resources available to the public.
"We are exploring how to expand the idea of a 'teaching museum' to provide access to pedagogical resources outside the walls of an individual institution and the academy as a whole," says OXY ARTS Director Meldia Yesayan. "With this exhibition, we hope to rethink how we engage with our communities, and imagine a future in which femme-identifying, BIPOC, and queer creators control our algorithmic worlds."
Writes Hakopian, "Artificial intelligence structures the sociotechnical terrain of our present, and the human agents who train it shape the political imaginaries of what is yet to come. From predictive policing to judicial risk assessment to border surveillance to automated hiring, the encoded biases of AI systems magnify existing structural inequities. While algorithmic worldmaking often unfolds in a 'black box'––an opaque space of automated decision-making whose rationale is hidden from public view––the artists, researchers and cultural workers featured in the exhibition are opening up the black box for scrutiny to imagine possibilities for feminist, antiracist, and decolonial AI."
Automated predictive models don't forecast a world that might be: they reproduce the world depicted in their training data. Stephanie Dinkins' ongoing work, Conversations with Bina48 (2014-2021), documents a series of discussions between the artist and Bina48, a social robot conceptualized to reproduce the consciousness of a Black woman. In the encounters that follow, Dinkins discovers that the robot has no conception of race or racialization, and explores how empathy, identity, race and gender are encoded in the datasets of AI systems. Astria Suparak's video installation, Asian Futures Without Asians, examines over 50 years of American science fiction cinema to surface Orientalized representations of the future that ornamentalize Asian cultures while imagining futures absent any Asian protagonists. Mandy Harris Williams will contribute a new sound installation that draws from her #BrownUpYourFeed project, which examines how algorithmic platforms parse content by nonwhite producers. 
The exhibition will explore the automated systems that we encounter in our daily lives, and make visible how they engage with artificial intelligence on a daily basis and its lingering effects. Niama Safia Sandy will present The Bend (2021)––a series of prints, first presented as a NYC street campaign in partnership with AI For the People and For Freedoms, imagining futures beyond biometric technologies like facial recognition, which disproportionately target Black life and communities for surveillance. In Lauren Lee McCarthy's conceptual performance piece, LAUREN, the artist attempts to become a human version of Amazon Alexa by performing labor in people's homes.
Encoding Futures: Speculative Monuments for L.A. is an offsite augmented reality exhibition that developed through a three-month summer residency program at OXY ARTS where artists were invited to conceive a blueprint for a site-specific imagined future. The artists considered past and present social, economic and cultural inequities, power imbalances and other forms of subjection, with the hope of foregrounding a radically equitable future sited in an emergent present. Launching on Sunday, September 19, from 11 a.m.-2:30 p.m. PST, these virtual blueprints will be geolocated at sites across the city and viewable to the public indefinitely through an artist-run augmented reality app, 4th Wall. 
Joel Garcia's Astrorhizal Networks imagines the possibilities for a future in L.A. where Native people are not just acknowledged, but land has been returned and new growth has begun. Garcia chose the site where a Junípero Serra statue stood until summer 2020––when it was toppled by protestors in a ceremony––and in its absence has placed an oak sapling, radiating green circles of light out and up towards a constellation of stars. Patrick Martinez's Homegrown is a monument that anticipates a future in Los Angeles where affordable housing is accessible to people who have lived here for generations. Hovering above an empty lot in Highland Park, it demands that we imagine a new trajectory for the city and not settle for a future where luxury developments continue to proliferate, and families continue to be displaced.
Audrey Chan's The Assata Center sits on top of the L.A. Police Protective League building, which Chan sees as a living monument to corruption and brutality. Transforming the site into a community center named for freedom fighter Assata Shakur, Chan visualizes what would be possible if we redirected funds and resources away from policing and towards community care. Nancy Baker Cahill's Motherboard sits above Los Angeles City Hall, proposing a newly imagined decentralized system of governance that supports kinship. Drawn to images of the human spine, Cahill began thinking about what it means to have a spine, or conversely to be spineless. The artwork resembles a butterfly, lightly flapping its wings above the city. 
Find additional information and view the locations.
Public Programming
Thursday, September 16 | 4-8 p.m. Opening Reception
Friday, September 17 | 12:15 p.m. Lecture | Safiya Umoja Noble
Sunday, September 19 | 11 a.m. Launch Event | Encoding Futures: Speculative Monuments for L.A.
Thursday, October 7 | 7 p.m. Panel Discussion | Encoding Futures: Speculative Monuments for LA
Thursday, October 21 | 7 p.m. Workshop | Stop LAPD Spying Coalition 
Saturday, October 30 | 1-4 p.m. Symposium | Encoding Futures: Speculative Blueprints for Critical AI 
Thursday, November 4 | 7 p.m. Lecture-Performance | Mandy Harris Williams
Sunday, November 14 | 2-4 p.m. Workshop | Feminist AI