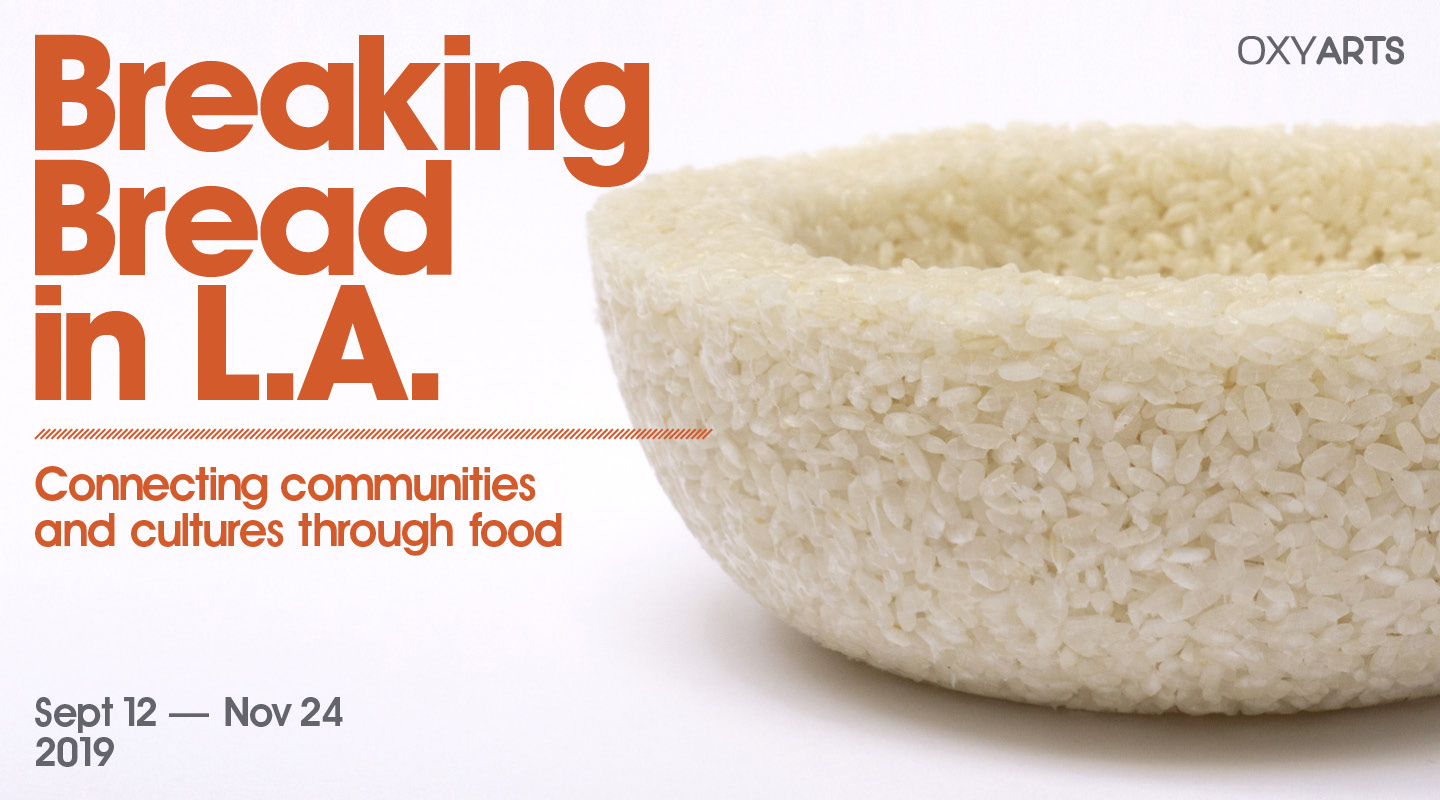 Oxy Arts, the community-based arts hub of Occidental College, will launch the opening season for its newly opened space on York Boulevard with Breaking Bread in L.A., a three-month exploration of how food offers the possibility of cross-cultural connections in our cosmopolitan metropolis.
In keeping with Oxy Art's interdisciplinary philosophy, Breaking Bread programming will include a group exhibition, performances, film, lectures, panel discussions and, of course, food. A September 12 opening exhibition reception at the Oxy Arts Building, 4757 York Boulevard in Highland Park, will kick things off with food tastings from long-time Highland Park eateries and global music tunes by Dublab. The season is scheduled to run through November 24. All programming is free and open to the public.
While Breaking Bread showcases multiple artists in multiple art forms, the idea behind it is a simple one: "In a time of deep social divisions, to find a sense of belonging and connection through the unique legacies and culinary traditions of our multicultural communities," says Meldia Yesayan, Oxy Arts director.
Exhibiting Artists include Carmen Argote, Susu Attar, April Banks, Marisa J. Futernick, iris yirei hu, Phung Huynh, Jessica Rath and Akemi Ki, and The Echo Park Film Center.
Among the highlights of the series:
"Broken Bread" KCET Screening and Panel Discussion with Roy Choi and guests (September 25), featuring a screening of Access, an episode of the KCET Original series Broken Bread, followed by a panel discussion about food equity in Los Angeles with Chef Roy Choi, Süprmarkt's Olympia Auset and KCET executive producer Juan Devis.
Miry's New Arrival Supper Club (September 28), featuring traditional Syrian food prepared by the Trad family. The Trads are among the Syrian refugees who have been helped by Miry's List, the Eagle Rock-based nonprofit that helps refugee family resettle in Los Angeles. More than 350 families from countries including Syria, Afghanistan, Iran and Iraq have been helped by the organization since its founding in 2016. (Registration required.)
The Art of Food Writing (October 9) features Los Angeles Times food writers Jenn Harris, Alice Short and Lucas Kwan Peterson in conversation with Times' arts and culture reporter Carolina Miranda and Bob Sipchen, a former senior editor for the Times and an adjunct associate professor of writing and rhetoric at Occidental.
GO HOME: Where the Heart Is. Feed My Heart. Free My Hate (October 26-27). Performance artist Jasmine Orpilla, together with an ensemble of musicians, physically marks the symbolism of specific Filipino foods, minerals, materials and weaponry which "touch" upon and "feed" renowned anti-colonial warriors, activists and revolutionaries of the Philippines' past.
Firmly Rooted: Chili Peppers and POC Cuisines (November 12): Follow the history of the chili pepper from Meso and South American origins to its immersion in global culinary culture. A conversation and tasting led by food-based collective Across Our Kitchen Tables.
Dining in Diaspora: Tracing the Legacy of Armenian Food in America (November 24), an exploration by journalist Liana Aghajanian of the politics, history, travels and identity of the food of Armenians, refugees from war, genocide and atrocity. For more than a century, food has been the closest thing that encapsulates the feeling of being rooted for the Armenian immigrants.
Full details about Breaking Bread in L.A. can be found here.
Oxy Arts is the community-based arts hub of Occidental College, a public space that brings together the campus community, the Northeast Los Angeles community and local and regional artists in a socially conscious dialogue. The Oxy Arts building at the corner of York and Armadale Avenue, just one block from the Occidental campus, opened in May.
Summer programming included Compass Rose, an exhibition and collaboration between Oxy Arts, the Institute for the Study of Los Angeles, and Highland Park artist Debra Scacco, and a summer arts residency of L.A.'s historic Bob Baker Marionette Theater with free weekly puppet shows followed by workshops for children, teens and adults.