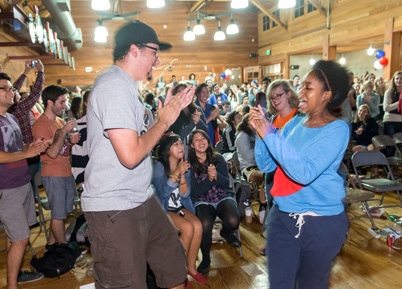 In a repeat of the scene four years ago, a deafening roar erupted in Occidental's Tiger Cooler tonight when CNN declared that Barack Obama '83 had won a second term as president of the United States. 
Students hugged and cried, took pictures and celebrated the end of a long, contentious presidential campaign. They took to Facebook and Twitter to share their enthusiasm. "And the crowd goes wiiiiild!!!!" tweeted Shayna Jackson '15. "Proud to say that I go to Oxy and that we produced the nation's first Black president," tweeted classmate Derrick Green.
Many of the Oxy students gathered this evening were first-time voters in a presidential election. They proudly wore their "I voted" stickers and "I voted absentee ballot" buttons that were provided by the Office of Student Life.
One first-time voter, Adrienne Ruth '15, spent much of her childhood living in Japan. Her participation in this election was something she took pride in. Ruth spent a lot of time talking with her family and examining her beliefs before casting her absentee ballot for Mitt Romney in her home state of Virginia.
"I was extremely excited," said Ruth of the voting process. "I voted and I can see that reflected in my country."
Ruth said she enjoys being on a politically active campus, even if she doesn't always share the same views with other students. She, like other Oxy students, is challenging the perception that college students aren't engaged in the political process.
"I feel like the demographic I'm in is statistically apathetic," said Nick Gallagher '14, who watched the returns while finishing his homework. "As a result, candidates don't form a platform around the needs of our generation. Even if people don't vote in a way I agree with, it shows future candidates that they need to listen to what we say."
For 32 Oxy students, this election has immersed them in that political process. As part of the one-of-a-kind Campaign Semester, these students worked for political campaigns across the country. What they lost in sleep, they made up for in experience.  
Tyler Rosen, who spent Campaign Semester in Ohio working on the re-election campaign for Sen. Sherrod Brown, checked in via Twitter, saying, "It was a pleasure working on the Brown campaign!" But while some students enjoyed the taste of victory, others were learning to accept defeat. All of the students will return to campus with an understanding of the political process from the inside and begin the process of examining their experience in the classroom.  
"Coming here changed my perception of the United States," said Gallagher, a San Francisco-area native. "These are the best academic discussions I've ever had on politics. People are told what to think when they're growing up, but here I got a chance to get a different perspective."
Elsewhere on campus, the staff of the Occidental Weekly was frantically putting together the week's paper –- pushing their Tuesday night deadline until the last possible minute. Before the race was called they were speculating the cover, acknowledging that no one on campus wanted to see something generic.
"On this campus, if Romney wins, the story is that Obama loses," said Ryan Strong '14, the paper's editor-in-chief. "It's just different if a candidate went to school here."