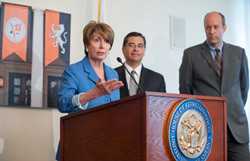 House Minority Leader Nancy Pelosi and Rep. Xavier Becerra (D-Los Angeles) met with Occidental President Jonathan Veitch and leaders and students from other Southern California colleges today to discuss college affordability and student loan interest rates, which are set to double on July 1 unless Congress acts.
At a campus press conference following the meeting, Juan German '12 of Rhode Island -- a newly minted Fulbright Scholar who attended Oxy on a mix of institutional aid, loans, and Pell Grants -- called on Congress to continue to fund low-interest loans "to help students like myself afford this kind of elite education."
Both Pelosi and Becerra -- himself a first-generation college student -- called for a bipartisan response to the current deadlock, which will double the interest rate on federal Stafford loans unless an agreement as to how to pay the estimated $6-billion cost of maintaining the current rate is reached in the next five weeks.
"This isn't about politics, this is about people," Pelosi said. "The fact is you don't save any money by making cuts to education. Nothing brings more revenue to the public treasury than education. We have a moral imperative to educate our children and prepare for the future."
Also at risk in the current budget negotiations are funding and eligibility standards for Pell Grants, the federal program for low- and moderate-income students. The proposed cuts come at the same time California Gov. Jerry Brown is proposing significant cuts in the Cal Grant program, which also supports students of modest means.
Veitch stood before the cameras to address the myth that colleges raise tuition for no other reason than that they can. "The largest single lever for tuition increases is scholarship aid," he said. "One-third of our operating budget goes to financial aid. At Occidental, we spend $5 for every dollar of federal loans. We know tuition is putting pressure on middle-class families. There is no incentive for us to increase tuition willy-nilly."
Veitch was joined by Roland "Chip" Chapdelaine, president of Los Angeles Trade Technical College; Ann McElaney-Johnson, president of Mount St. Mary's College; Jamillah Moore, president of Los Angeles City College; Ron Johnson, UCLA financial aid director; Tom McWhorter, dean of financial aid at USC; Luis Dorado, dean of student services at L.A. Trade Tech; and almost two dozen students from area campuses, including German, Sarah Shirley '13, and Kristen Treat '13.