Submitted by kwall_admin on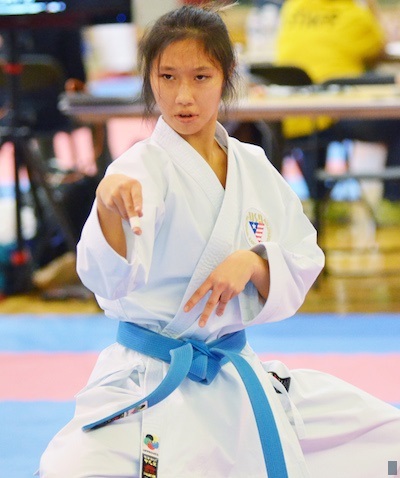 Giselle Kaneda '19 of Cupertino represented the United States at the Pan-American karate championship in Argentina in August. It was one more step in her journey toward qualifying for the Olympic Games in 2020. 
Kaneda, who has been practicing karate since age 5, came in fifth in her division in Buenos Aires. "I'm pretty happy with how I did. I barely lost the bronze medal match. Always have stuff to work on, I guess," she said.
Kaneda made the Junior U.S. Olympic Team 10 times from 2010 to 2015, including eight consecutive years. Last year, she represented the United States in Ecuador and Austria. Competing at the U.S. nationals in Greenville, SC, earlier this summer, she medaled in all three divisions that she entered: bronze in elite 18-20 kata (forms); silver in elite 18-34, -50kg kumite (sparring); and silver in elite 18-20, -50kg kumite. The specific style Kaneda practices is called Shindo Jinen Ryu.
Qualifying for the 2020 Olympic team is "a very complicated process," Kaneda said, and she admits it's a long shot. "They're going to take the top whoever wins the world championships and the next 10 top rankings," she explained. "To get those rankings, they have to go to certain international tournaments like the one I just went to, which are held throughout the year all over the world. They're kind of hard to get to when you're in school."
Kaneda just turned 19, so she hasn't been competing in the "senior" pool for very long and subsequently hasn't had time to accrue points and work her way up the ranks yet.
During the school year, she practices karate twice a week in postal operations director Victor Chico's class on Mondays and Wednesdays in the Dance Studio. While she practices up to eight hours a day during the summer, "during the year it gets really slimmed down—I'll train maybe 10 hours total during a really heavy week," she said.
"Karate is something I do for fun when I have time. School is the priority," she said. "Karate is a great sport, but there's no money in it. You can't support yourself doing karate."
The undeclared major (kinesiology or biology are top contenders) says she's considering medical school or graduate school to become "either a doctor or a researcher. My goal is to combine my experience in sports with my interest in medicine, like maybe become a sports medicine doctor. It's very tentative," she said.
Kaneda has a "hidden" talent—in addition to her black belt, she is a double black diamond skier. When not throwing kicks on the mat, you'll find her on the slopes skiing or snowboarding.