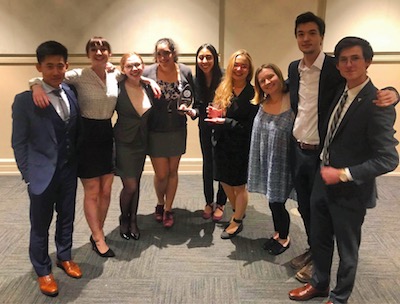 Three forward-thinking first-years with a love of law and mock-trial competitions—Chuanjie "Felix" Hong '20, Maria Salter '20 and Henry Yue '20—together founded the Oxy Law Society last year. 
All three had done mock trial in high school, and forming an official club, registering with the American Mock Trial Association (AMTA) and beginning a recruitment process on campus were the steps they needed to take to continue to compete as college students.
"Mock trial was the starting point of all of this," said Hong, an economics major from Shanghai. "As we approached different students about having a law-related club on campus, they showed great interest. They said they were also interested in moot court and how to prepare for law school."
Before going to its first mock trial tournament, the Law Society had been focusing on establishing a moot court program with the help of Assistant Professor of Politics Edward Kammerer, who has a law degree in addition to his Ph.D. The Society sent its first moot court team to a tournament in Fresno last year. Students took a class with Kammerer for that effort, receiving two credits. 
Finally, the last weekend in February, members of the club traveled to Pomona College for AMTA's regional competition, joining a total of 250 competitors and coaches. The team of 10 students ranged from first-years to seniors. Although the group did not make it to the next level of competition (the team they went up against twice out of four competitions, UC Davis, ended up taking top prize), the Oxy team was awarded the Spirit of AMTA Award, given to the team that "best exemplifies the ideals of honesty, civility and fair play," along with an Outstanding Witness Award for Nina Srdic Hadzi-Nesic '21. 
They also managed to impress attorney Rita O'Neill '86, who served as a competition judge. "Most of the teams thanked me after the competition," she said. "The Oxy team asked me how they could do better."
"She was really helpful and gave us advice," Hong said.
"We felt pretty good," he added. "We went up against Claremont, Arizona State, UC Davis."
The top-finishing team was UC Davis, with a near-perfect record of 7 wins and 1 draw, while UCLA came in second with 7 wins and 1 loss. Scripps College came in third, and USC took the fourth and fifth spots.
One thing the Oxy team will "absolutely" do differently next year is start preparing earlier, Hong said. "We started pretty late this year because everything started from scratch: we needed to find a coach, to recruit, to fundraise, etc. Next year our timeline will definitely move forward, especially now that we have a coach and a whole team and know the procedure of registration. We will also try to go to many local invitationals to get practice before we attend the AMTA regional. If we are able to recruit more students, we will be happy to send more than one team to different competitions."