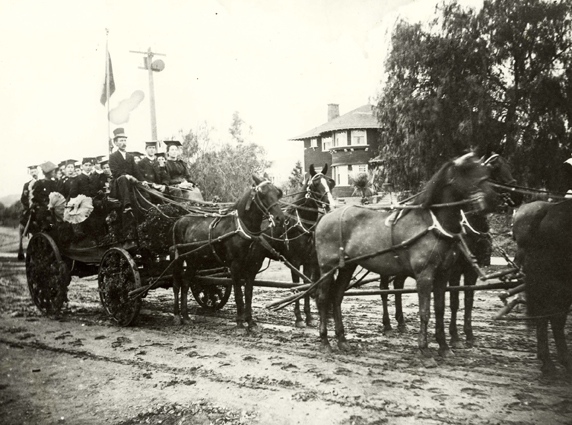 Oxy has long played a small but sturdy role in Pasadena's fabled New Year's Day Rose Parade, including its own float entries and the hundreds of alumni (including three Tournament of Roses presidents) who have helped keep the world-famous event running smoothly. 
Oxy first appearance in the parade came in 1899, just nine years after the event began as a parade of posy-covered horse-drawn carriages to advertise Pasadena's fine winter weather.
A large tally-ho was drawn by six black horses with yellow bunting, the college colors at the time (black and gold). The running gear and wheels were also wrapped in yellow bunting, and a group of students dressed in black and yellow and wearing yellow-tasseled mortar boards rode inside the carriage along muddy streets.
In 1920, a group of students dressed in caps and gowns occupied a pyramid of steps on a wagon decorated with marigolds and blackened pepper-tree boughs. On top was a bronze tiger borrowed from the college chapel.
The following year, Oxy was one of the first colleges to have an actual "float" in the parade. It depicted various aspects of college life, with a large orange "O" on each corner and the bronze tiger prominently displayed. Similar floats followed in 1922 and 1923.
"The floats were nice, but not exquisite like they are today," recalled Florence Heacock Fisher '23. Gladys Coswell Griffin '23 remembered working on a float all night in a garage somewhere in Pasadena. "It had marigolds all over and the Oxy tiger. Yet, despite our efforts, once we saw it in the morning, it didn't look like much."
Occidental won third prize in the non-civic/non-commercial category in 1925, with "one of the most striking color designs seen in the parade. Pepper boughs dipped in tar were hung over the body of the float, on which a huge 'O' was erected out of brilliant orange marigolds and a mound of the blackened pepper branches," according to College historian Jean Paule's research.  The prize-winning float also featured a model of a tiger, and students dressed in white.
"It was a lot of fun, but the float had pepper tree branches dipped in black tar, so we had to watch where we stood," recalled one student.
The college repeated that honor the following year, winning third prize in a category that included floats of educational and religious institutions. That year's design featured "a huge orange and black book, partly opened, mounted on a circular platform of bronze. 'Occidental' spelled with orange marigolds was emblazoned upon each side. Four students representing the four classes were grouped on the steps leading to the 'Book of Knowledge,'" according to Paule.
After that there was a gap of 61 years in the College's parade participation. Its next float was not until 1987. That year's entry, "Ship of Learning," commemorated the College's centennial. Oxy's most recent float, "Everything Is Coming Up Roses," was an entry of the Alumni Assn. in 1993.  
A float was planned for the 1924 parade. On the day of the parade, however, there was no Occidental float to be seen. The Occidental issue of January 8 raised the question, "Where Was Our Float?" An explanation from the float chairman appeared in the following week's issue: No one had shown up to finish it.
"There was a lot of anger and disappointment," Harold Wagner '24, student body president at the time, remembered. Various sources pointed to three young men who had either partied too much and couldn't pull themselves together to finish the float, or who simply overslept.
Such a thing, of course, would never happen today.