Submitted by kwall_admin on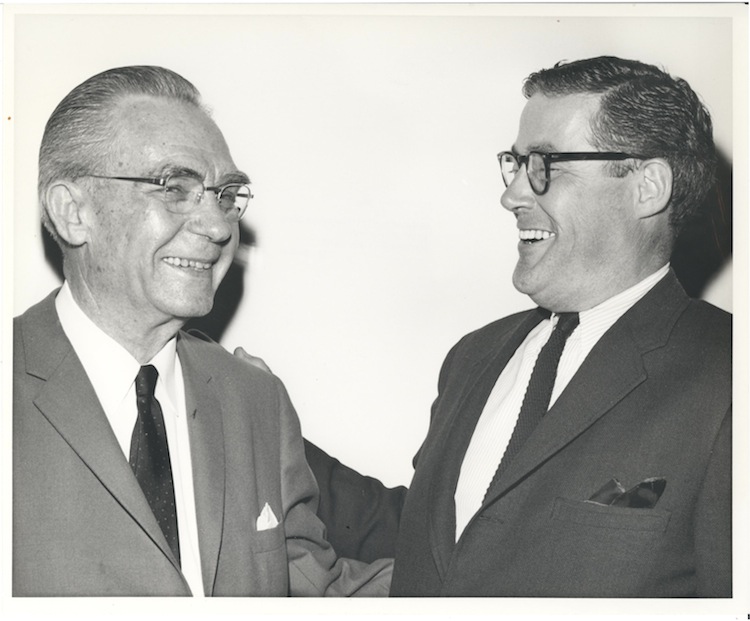 Bringing the Dodgers to Los Angeles was a team effort and Chad McClellan '22 was an MVP. If it weren't for the former president of the senior class, member of Lowell Literary Society, baritone in the Glee Club and La Encina staff member, the Boys in Blue may never have made it here from Brooklyn.
No one would describe Chad McClellan as a baseball fan—least of all McClellan himself. "I had seen only one major league game in my life," he recalled in the Los Angeles Times in 1963—six years after spearheading the movement that brought one of the most storied franchises in the game to the City of Angels. A paint manufacturer and president of the powerful Merchants and Manufacturers Association, he was appointed by L.A. Mayor Norris Poulson in July 1957 to negotiate on behalf of the city and county to bring the Brooklyn Dodgers to L.A. After endless back-and-forthing, the team relocated to the West Coast for the start of the 1958 season.
The Dodgers—who have won four World Series since and who clinched their National League Division Series this year—have more than rewarded McClellan's efforts. He also served as assistant secretary of Commerce under President Eisenhower from 1955 to 1957, and organized the "kitchen debate" on communism and free enterprise between Russian Premier Nikita Khrushchev and Vice President Richard Nixon during the U.S. Exhibition in Moscow in 1959. McClellan died in 1979.
For a more detailed history of McClellan's efforts to bring the baseball to Los Angeles, read this article on a historical website dedicated to former Dodgers owner Walter O'Malley.