Submitted by kwall_admin on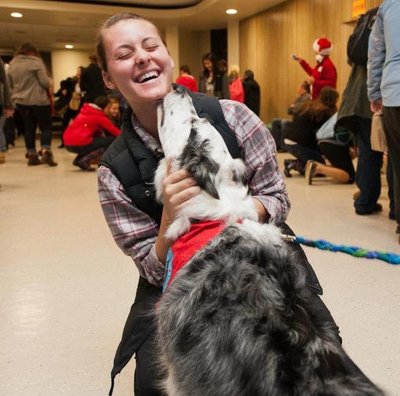 Dogs, massages and breakfast-for-dinner in your pajamas—these are a few of the stress relievers Occidental is offering its students during finals week, beginning Monday, Dec. 10. 
"Finals is a particularly stressful time for students. So we wanted to offer activities that are soothing to the body, mind and soul," says Tamara Rice, assistant dean of students and director of the Office of Student Life.
The calming begins with Campus Dining's Breakfast for Dinner on Monday night. Students are invited to wear their pajamas to the cafeteria to eat waffles, pancakes, breakfast burritos (from a make-it-yourself burrito bar), omelets and other treats.
After filling up on breakfast goodies, students can wander over to Lower Herrick for some canine cuddling. For the third year in a row, the Office of Student Life is partnering with Therapy Dogs International to bring therapy dogs to campus from 6 p.m. to 8 p.m. "Doggy Play Date offers a unique opportunity for students to receive the reciprocal love and attention from therapy dogs," Rice says of this always popular and sometimes chaotic event.
The Office of Religious and Spiritual Life is offering two study breaks, on Tuesday, Dec. 11 and Wed., Dec. 12 from 7 p.m. to 11 p.m. in Lower Herrick. Free pizza and other snacks will be on hand. Students can sign up in advance to receive a free 15-minute massage. There will also be small pots for students to paint or decorate and mandalas to color, as well as live music.
"The purpose of these study breaks is to provide a space for students to get a break from the stress and anxiety of finals week," says the Rev. Susan Young, director for Religious and Spiritual Life. "Many Oxy students do not deal with academic stress in healthy ways and we want to provide a safe and supportive communal space for students to support one another and to receive support from ORSL staff as they deal with their academic pressures."
The ORSL has also set up a labyrinth in Upper Herrick that will be available from 9 a.m. to 11 p.m. throughout finals week for students to engage in personal reflection and prayer. "A labyrinth is a prayer resource grounded in Christianity that provides a way for individuals to walk a sacred path and contemplate," Young says. "Many of our students (including nonreligious students) find the labyrinth to be very rewarding."
Especially when there is a puppy and pizza waiting at the end.