Submitted by kwall_admin on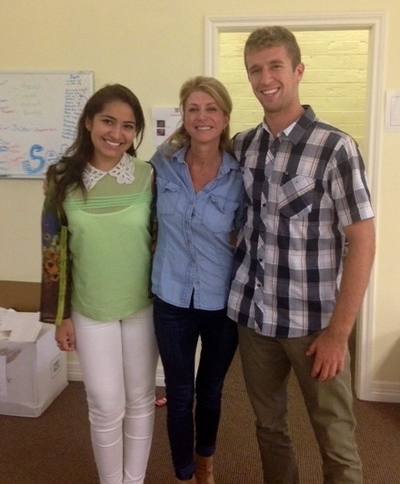 This fall, 11 Occidental College students are learning in a classroom that stretches from Massachusetts to Texas as they work full time for political candidates during the crucial 2014 mid-term elections.
They are participants in Campaign Semester, the only program in the country that offers a full semester of college credit for working on a political campaign during a mid-term or presidential election season.
Coordinated by politics professors Peter Dreier and Regina Freer, Campaign Semester gives Occidental students the opportunity to learn about political campaigns and elections through firsthand experience. This semester students are working for five campaigns in five states.
"More than 70 students have participated in the program since we started it in 2008," says Dreier, the E.P. Clapp Distinguished Professor of Politics and chair of the urban and environmental policy department.  "They get to learn about politics and election campaigns from the inside, they work extremely hard, and win or lose, they come back to campus with a new understanding of the strengths and weaknesses of our political system."
For many, it has been a life-changing experience, Dreier says. "Some Campaign Semester graduates are now working full-time as political campaign professionals, some are working in government, some are working as activists and advocates on issues, and all of them are more effective citizens as a result of this experience."
The program is open to all Oxy students, regardless of major. Students work long hours for 10 weeks for a campaign of their choosing. (The only condition is that the race be a "swing" or "battleground" race—one where neither major party has a decided advantage and the outcome is likely to be close. This will guarantee an exciting campaign.) Their participation involves a wide range of activities, including voter registration and turnout, volunteer coordination and media relations.
Claire Henriques '16, a politics major from Chicago, says she came to Oxy specifically for the program. "As a sophomore in high school in Chicago, I volunteered on Alexi Giannoulias' campaign for U.S. senator in 2010," she says. "My supervisors were several Occidental students who explained their program to me. I immediately fell in love with the idea, and chose Oxy because of the opportunity."
Working for Sen. Mary Landrieu's campaign in New Orleans "is a learning experience on every level," Henriques says. "I work hard every day to keep her in office. I'm the type of student that learns better by doing, and I get to go to a school that allows me to learn politics by doing politics."
"So far, Campaign Semester has been the most fast-paced, exciting, nerve-wracking experience I've ever been a part of," says Nguhi Muturi '17, an undeclared major from Rowlett, Texas, who is working for Martha Coakley's gubernatorial campaign in Massachusetts. "As an organizer, I was given my own city—Lowell, the fourth largest city in Massachusetts. I work for Martha at the grassroots. My main priority is having direct voter contact to explain why I'm campaigning for Martha and why voters should vote for her. My role is to build teams of volunteers to help me reach ideally every Democratic and unenrolled voter in my city."
"Instead of going abroad and observing a new culture, I wanted to go back to my home state and help preserve my state's history of social progress and political compromise," says Lawrence Larabee '15, a politics major from Ahoskie, N.C., who is working for the Kay Hagan Senate campaign in North Carolina. "The highlight of my experience was getting to meet one of my heroes, President Clinton."
"Tasks have included everything from transcribing speeches to reaching out and coordinating events with Baptist ministers and local elected officials," says Julius DiLorenzo '16, a politics major from Chicago who is also working on the Landrieu Senate campaign in New Orleans. "No two days are the same, which is great, and there've been some definite highlights, such as meeting Bill Clinton at a private fundraiser."
"Interning for this campaign has been one of the best decisions I have ever made," says Amanda Morales '16, a politics major from Montebello who is working for Sen. Wendy Davis' campaign for governor in Texas.  "I have learned so much in the five weeks I've been here.…I have had the extraordinary opportunity to attend press conferences, reach out almost weekly to various media outlets to cover our volunteer events, and have helped write press releases. I have also done less glamorous work, like organizing Excel spreadsheets and transcribing interviews. When it comes down to it, every task you complete, no matter how insignificant it may seem at the time, contributes to the overall success of a campaign."
The internships will end on Election Day, after which the students will return to the Occidental campus for an intensive five-week seminar to put their campaign experiences in broader context. In addition to volunteering full time, the students compile a detailed weekly journal and, during the on-campus seminar, complete assigned readings, write a research paper based on the campaign (e.g. the role of the media, voting analysis), and give a public presentation of their Campaign Semester experience.
"I would absolutely recommend Campaign Semester for other students," DiLorenzo says. "You don't have to know you want to work on campaigns to participate. I think this has been especially helpful in helping me identify which parts of politics I really like. For example, I've noticed that I really gravitate to the local side of elections—working with different community leaders to sponsor events for the senator or help increase voter turnout. There's no real way to know until you put yourself out there and see what fits well for you and what doesn't.
"On top of that, nothing makes you more excited to return to campus than spending three months across the country having to cook your own food. While I'm excited to finish out the campaign strongly, the joys of living with a meal plan are beckoning."