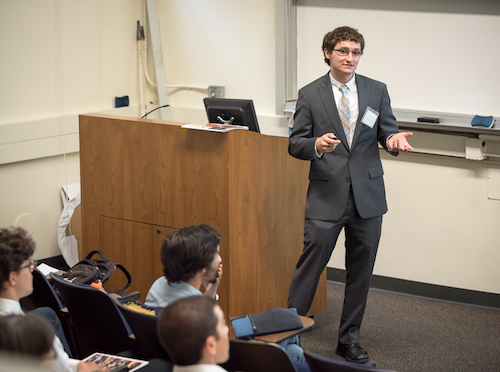 For many pre-meds, organic chemistry is an anxiety-generating ordeal that can determine whether you are cut out to be a doctor. But it had the opposite effect on Matt Schmidt '18: "I fell in love with it."
It was his O-chem love affair that led Schmidt, in suit and tie, to address a classroom filled with faculty and students this week on his work on synthesizing a chemical compound found in a flowering plant from the Madagascan rainforest—Oncostemon bojerianum—with a variety of potential medical applications.
The presentation from the Thousand Oaks biochemistry major on "Method Development for Synthesis of Novel bis-5-alkylresorcinol" was just one of dozens made by Occidental students during the College's annual Summer Research Program Conference August 2.
Almost all of the 114 summer research participants presented the results of their work during the day-long campus event, research carried out in collaboration with 59 faculty mentors from 23 academic departments. As one of Oxy's signature programs, undergraduate research has developed a national reputation over the past three decades.
At the conference luncheon, President Jonathan Veitch recalled his own undergraduate research analyzing novelist William Faulkner's unconventional use of narrative chronology: time-consuming, difficult, often frustrating and ultimately deeply rewarding.
"To be an intellectual—someone for whom ideas matter—is something worth aspiring to," Veitch told faculty, students and visiting family and trustees in Gresham Dining Hall. "That's my wish for you. This is an important part of a process that will help shape your career trajectory, expose you to the power of ideas and propel you outward into the world."
Almost half of the students presenting their research were women in STEM fields ranging from chemistry and biology to physics and mathematics, exploring everything from Southern California salamander habitat to the measurement of neutron flux.
Among them was Natalie Dwulet, a chemistry major from Los Altos who graduated in May and is headed to UC Irvine this fall with a National Science Foundation Graduate Fellowship to pursue a doctorate in organic chemistry.
Dwulet started her research with Assistant Professor of Chemistry Jeffrey Cannon on a new method of carbon-carbon bonding three years ago. "We've gotten to the point where we're close to publishing, and I needed this summer to help us get to there," she said.

Like Schmidt, it was her reaction to her first O-chem class that determined the arc of her undergraduate career. "When I came to Oxy I didn't want anything to do with chemistry," she recalled. "Then I took organic chemistry freshman year and just fell in love with the subject."
It was a love that sustained her through months of frustration in the lab. "I have failed so many times," she said with a smile. "My entire first year of research I spent on something that didn't work. That sounds bad, but it wasn't—I learned so much from that experience."
"I enjoy watching my students take some pride in their work and their excitement in telling people who aren't chemists about the projects they've been working on so hard," said Cannon, who mentored both Dwulet and Schmidt. "I get to see them show everything they have learned over the summer. I think the conference is the best day of the summer."
While the sciences were well represented at the conference, almost one-third of the students explored topics in the humanities and social sciences. Among them was Kil Joon Chung '18, a history major from Montebello whose research focused on the 19th-century American debate between North and South on the Chinese Coolie trade. Chung's interest was sparked by a class he took on anti-slavery movements in the Atlantic world from history Professor Sharla Fett.
Like many of his fellow researchers, Chung—who immersed himself in contemporary newspapers and magazines, among other sources—found it challenging to confine his findings to a short 10-minute presentation but savored the opportunity to devote himself to a single topic outside his normal class schedule. "I had a lot of material to read, and it's nice to be able to have the chance to sit and really think about it and figure out how it all fit together," he said.
Immersion in primary sources also was essential for Belén Moreno '18, a history major from Elk Grove who studied early inter-ethnic labor coalitions among California farmworkers during the 1930s. "There is very little scholarship on this area, and I hope my research can address the gap," said Moreno, who carried out much of her research at the Bancroft Library at UC Berkeley and at UCLA.
Sponsors of this summer's research include the American Chemical Society, the Fletcher Jones Foundation, the Ford Foundation, the W.M. Keck Foundation, the Mellon Foundation, National Institutes of Health, the National Science Foundation, the Will J. Reid Foundation and the Paul K. & Evalyn E. Cook Richter Trusts.