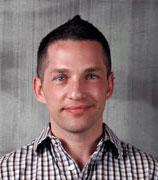 Occidental associate professor of art history and the visual arts Broderick Fox has been selected as one of 13 California artists to receive a 2011-2012 Artistic Innovation Grant from the Center for Cultural Innovation. 
 The $7,000 grant will be used to complete sound design and music recording for Fox's latest feature-length documentary, The Skin I'm In, which is on track for a January 2012 premiere.
"One of the challenges of making autobiographical work is that I've been laboring in isolation on this project for close to six years now," Fox says. "Of course you have to believe in your work and believe what you're trying to do is innovative in order to find the energy to continue pushing forward. But having The Skin I'm In be awarded a grant for artistic innovation by a selection committee comprised of other artists is a very special sort of affirmation."
Fox was one of 27 total recipients of a CCI  grant this year under the group's Investing in Artists program, which is designed to build the personal and creative capacity of California artists working in all disciplines. (The other 14 received grants in the Artistic Equipment & Tools category.)
"It is incredibly important, especially in the current economic climate, to have arts granting organizations such as the Center for Cultural Innovation continuing to run funding cycles for independent artists,"  Fox says. "I'm very grateful and look forward to sharing the finished film with audiences in the new year."
The Investing in Artists grant program was established by the CCI in 2007. Following an initial three rounds of funding made to 54 artists in 2007 and 2008, CCI, which has offices in Los Angeles and San Francisco, has continued the grants program from 2009-2011 with support from the James Irvine Foundation and the William and Flora Hewlett Foundation. 
Fox teaches courses in film and video production, narrative theory and screenwriting, documentary history and production, cinema aesthetics, and themed theory-production seminars on subjects such as autobiography in film and video and representations of the body, illness and dying,  gender and sexuality in media. His award-winning narrative, experimental and documentaryworks have screened internationally--theatrically, on television, at film festivals and online. His work as a film and video editor, and his critical writing, have appeared in various anthologies and journals, including Film Quarterly and Spectator. Fox's book, Documentary Media: History, Theory, Practice, is available through Pearson Press. 
For more information about the Center for Cultural Innovation and the Investing in Artists grants program, please go to CCI's website.