Submitted by kwall_admin on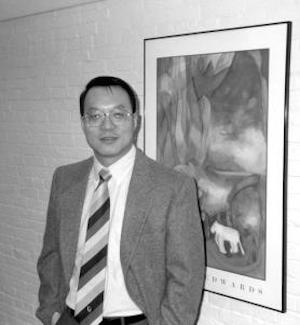 Professor Xiao-huang Yin, chair of the American Studies department and special advisor to President Jonathan Veitch on Chinese initiatives at Occidental, has been awarded a Fulbright Distinguished Chair grant to teach and do research in China for the 2014-15 school year.
Yin, a member of the Oxy faculty since 1991, specializes in Asian-American studies, transnationalism, U.S.-Asia relations and modern China. The distinguished chair award is the most competitive and highest honor offered by the Fulbright program.
"It will provide me with an excellent opportunity to teach (about 70% of the time), conduct research and get feedback from my colleagues in China on my teaching and scholarship," Yin says, adding that  "the concept of acting as a cultural ambassador, promoting mutual understanding between America and other nations, is one I am not only enthusiastic about, but will also take great pride in." 
Yin plans to conduct his research mainly in the Second Historical Archives of China (SHAC) in Nanjing, which was the capital of China from 1912 to 1949, the years that are the focus of his research. "SHAC holds the largest and most extensive collections of documents and other materials in China about the Republican era," Yin says. He also plans to visit local museums and libraries in the hometowns of early Chinese immigrants to search for letters, diaries, essays, memoirs and other records of the experience of returned migrants in China.
"My research will hopefully shed light on accomplishments of transnational migrants in China and bring about new discoveries to further inform my analysis of Chinese-American transnationalism in my next book," tentatively titled Between Worlds: Changes and Continuity in Trans-Pacific Chinese American Cultural and Migration Networks, he says.  
"The experience will also increase my expertise as an American/Asian studies scholar and enable me to further develop a broader transnational and transcultural base for my work," Yin says. He will also use his experience to inform efforts to extend Oxy's existing partnerships and forge new relationships with Chinese institutions, he says. 
The Fulbright is an opportunity to expand awareness of the significance of cross-cultural communications with other countries, especially non-Western nations, he says. "I hope it will generate a wider interest at Oxy in China in particular and bring about more conscious efforts to understand non-Western cultures in general."
Yin has recently had two books published in China: a Chinese-English bilingual volume that he edited and translated, The China Path to Economic Transition and Development, published by the Higher Education Press in Beijing, as well as a book he co-edited with a Chinese scholar, Anthology on Global and Transnational Studies, published by Nanjing University Press. He is also the author of Chinese American Literature since the 1850s and co-editor of The Expanding Roles of Chinese Americans in U.S.-China Relations. In addition to contributing to many other books, he has published extensively in Chinese on the Chinese Diaspora, U.S.-China relations and transcultural studies.
Yin received his bachelor's degree from Nanjing University and his Ph.D from Harvard.