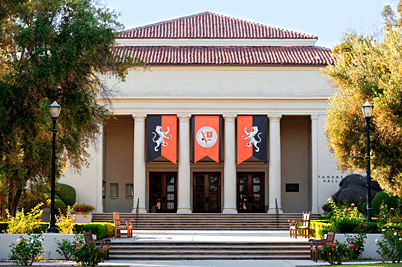 On a per capita basis, Occidental College is one of the country's top producers of students who go on to earn doctorates in economics, according to a new study published in The Journal of Economic Education.
Occidental ranks No. 26 among all colleges and universities whose undergraduates went on to earn a Ph.D. in economics between 1998 and 2002 – producing doctorates at a rate of 2.85 per 1,000 degrees awarded, co-authors Wendy A. Stock of Montana State University and John J. Siegfried of Vanderbilt University found.
That compares with the 2.97 per 1,000 rate at Dartmouth, 3.19 per 1,000 at Northwestern, and 3.78 per 1,000 at Yale, according to the study.
Economics has been the most popular major at Occidental for years – and for good reason, says Woody Studenmund, Laurence de Rycke Professor of Economics. "We have a diverse group of outstanding scholars who also are award-winning teachers," he says. "We're proud of the fact that half of our tenure-track faculty are women."
Not surprisingly, research universities that award Ph.Ds in economics produce the most undergraduates who eventually earn a doctorate in economics, the study found. "However, it is the top 50 elite liberal arts colleges that steadily outperform expectations, accounting for about one in eight new economics Ph.Ds while averaging only a little more than 2 percent of bachelor's degrees in the United States," Stock and Siegfried noted.
Overall, Oxy is one of the country's leading producers of students who go on to earn doctoral degrees in all fields, according to the latest data from the National Science Foundation. Occidental is No. 19 overall among top-ranked liberal arts colleges, and No. 47 among all American colleges and universities.