Submitted by kwall_admin on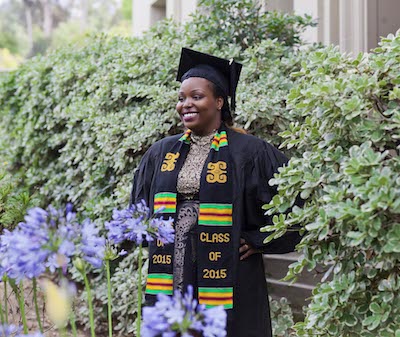 Graduating Occidental College senior Khaliyah Washington '15 has been named a Koru Nas Scholar—one of only three Nas Scholars in the country for 2015.
Last year, famed rapper Nas joined with Koru, a Seattle-based company whose mission is making sure the up-and-coming workforce is prepared for jobs, to fund a total of 10 scholarships. The rapper invested over $100,000 in the company to establish his scholarship fund.
"I applied to the Koru Fellowship without knowing Nas was a sponsor for the program," says Washington, a diplomacy and world affairs major from Newark, N.J. "It wasn't until after I was accepted that I found out I was nominated to receive the scholarship. I was ecstatic because Nas' music has influenced me in defining some of my core values throughout my life."
Washington, whose scholarship is paying for her to work on a design project for Airbnb in San Francisco for four weeks this June, said the Koru program appealed to her because she wanted "an opportunity to figure out what career aspirations were best suitable for my strengths and, most importantly, my passions."
In addition to his investment, Nas will also serve as a coach to the chosen students, giving advice and sharing his wisdom from years in business, according to Forbes magazine.
"I'm inspired to support Koru participants because I know how hard it can be to carve out your path and purpose in life," the musician told Forbes. "I can't wait to work directly with them and share what I've learned through my own life experiences."
Washington, who hopes to eventually work in the diplomatic corps, studied abroad in Cape Town, South Africa and spent a summer in one of Occidental's affordable housing internships in Los Angeles. She also served as a teaching assistant for the college's Urban & Environmental Policy Institute's Farm-to-School program, teaching nutrition classes to low-income families around Los Angeles County. In 2013, she went on a service trip to a rural mountain village in Nicaragua to help build a school.
Launched in 2013, Koru's goal is to help fill the gap between what students are ready for when they leave the classroom and what the workforce actually demands. Chosen students are connected with established, growing firms (such as zulily, Payscale and REI) for a four-week "bootcamp." While in the Koru program, participants spend part of their time working at their assigned company, and also spend time in the Koru offices reflecting on what they've learned and practicing the skills they will need when placed in real jobs.
Washington says she has already learned some important job skills.
"Companies prefer empathy over a strict commitment to revenue," she says. "They understand that in order for their businesses to work, they need to build partnerships with other businesses and people. These partnerships aren't solely based off 'what can you do for me'-type relationships, but based on trust and connectedness."
Also, "When choosing a job position, it's best to decide where you want to go based on your strengths and passions and not where you think is considered successful," she says. On a more practical level, she says, "I've learned a sales technique that I have confidence will work to my advantage in any setting."
In deciding to become a partner institution with Koru last year, President Jonathan Veitch said, "We cannot spend four years providing a rigorous education and then merely shake our students' hands and wish them good luck when they go out into job market. Koru is part of our ongoing effort to ensure that our graduates are able to successfully market their liberal arts skills in the modern workplace."