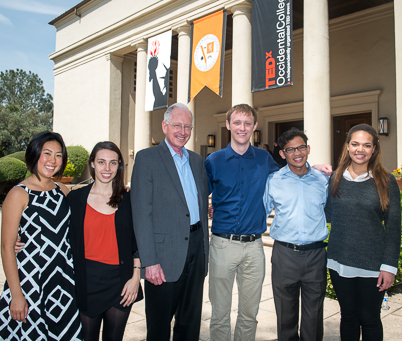 Five Oxy students were among the speakers at the first-ever TEDx Occidental on March 29 -- a cross-generational and thought-provoking exploration of how and why the American Dream is being reinvented.
Divided into three sessions -- What Is It? Who Has It? How Do We Get There? -- the day-long program in Thorne Hall explored many different American dreams. While the speakers and their subjects were diverse, many stressed the importance of family, community and inclusion.
There were reminders, too, that the traditional American Dream is still alive -- symbolized by the simple white picket fence backdrop on stage. At the beginning of the day, Sanjeev Khagram, Occidental's John Parke Young Chair in Global Political Economy, recounted how his family was expelled from Uganda by the dictator Idi Amin in 1972 and lost everything.
"I asked my parents why they chose to come to the United States, and they said, 'Because you can realize your dream there,'" said Khagram, one of the faculty advisors to the TEDx student organizing committee. "That's one theme we want to share: all American dreams are based on sacrifice -- of parents, families, communities -- and that sacrifice is worth it."
Judging from the large crowd's reaction, the Oxy student speakers were among the most popular. (Videos of all 15 speakers will eventually be posted online.) They were:
Somer Greene '16, who kicked the day off with a stirring spoken-word piece about growing up in segregated Memphis, Tenn., where she learned from her grandmother that her dreams, while seemingly made of gossamer, are indestructible. Greene's  experience as an African-American has shown her, she said, that "The American Dream does not come easy for everyone."
Brian Erickson '16 of Tucson, who argued that the American Dream can be found every day on social media. "The ideals it implies have to exist in single, identifiable documented moments. We have to look for those moments, and record them, and then share them, so everyone can see what an ideal in action looks like," he said. "We want to share the incidents that inspire us, in a world where hearts and minds are connected and perspectives are constantly on display."
Cordelia Kenny '14 of New York, who urged everyone to redefine their relationship with death — a process she began at age 9. "We live in a highly individualized society, and death is often an individualized experience," she said. "So what do you want your legacy to look like? There's no guarantee we'll wake up in the morning, so why not live a life free of regrets?"
Sarah Tamashiro '15 of Honolulu, who used the troubled modern history of Hawaii and the drive of native Hawaiians for greater sovereignty as an example of the importance -- and power -- of rediscovering your roots. "Places are complex," she said. "We all are part of some place. If we rediscover our roots, we can reconnect with our histories, reconnect with our past… Be that person. Make it heard. Make your home a place you can be proud of. Take action."
Adrian Adams '17, who argued that the American Dream had to be redefined to allow for the full inclusion of transgender people.  "Under the current American dream, we are taught that your gender must correspond with the sex we are assigned at birth," Adams said. "…But the American Dream is never finished. We need local, everyday inclusion to allow everyone to thrive."
Other members of the Oxy community who were featured speakers were venture capitalist Dave Berkus '62, who spoke about the importance of learning from one's failures, and Ella Turenne, assistant dean for community engagement, who spoke about the need to extend the American Dream by making a college education available to incarcerated people.