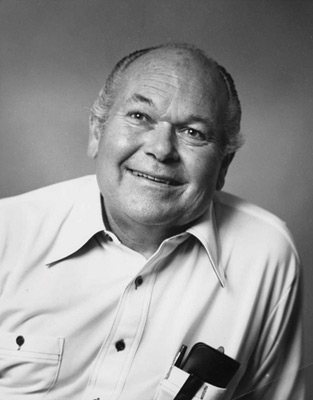 Professor Emeritus of Theater Arts and Rhetoric and one of the most beloved characters on campus, Omar Paxson died Dec. 18, 2013.
Omar Paxson '48 knew how to make an entrance. His role in The Hill Between—his stage debut at Occidental, in December 1946—required him to carry a 100-pound sack of potatoes onto the Thorne Hall stage at the start of the second act.  Paxson prepared for the scene by carrying that same heavy sack around backstage, a Method approach that the late John Ingle '50 teased him about in the decades to follow.
Oxy's professor emeritus of theater arts and rhetoric and one of the most beloved characters to ever grace the campus, Paxson took his final curtain call on the morning of December 18, eight days after his 90th birthday.
"What a privilege to be his student, his colleague and most of all his friend for over 50 years," said Alan Freeman '66 M'67. "I burst with gratitude. Omar taught me the principles of my craft. He taught me the aesthetics of tragedy and comedy, of unity and style. He exemplified discipline and collaboration, and professed that every problem can be fun to solve, or as he preached, 'Theater problems are happy problems!' He taught me that theaters were sacred places filled with compassion, and worthy of reverence and respect for the truth."  
A native of Huntington Beach, Paxson attended Fullerton Junior College for a year and a half before he was drafted into the Army. Paxson served in the 99th Infantry Division during World War II. He fought in the Battle of the Bulge and crossed the Remagan Bridge before it collapsed, and worked in establishing the first American bridgehead across the Rhine River. ("The worst rifleman the Army ever tried to train," he observed in 2002.) He transferred to Occidental in 1946, graduating with an A.B. in 1948. He would later earn an M.A. and Ph.D. from Northwestern, and joined the Occidental faculty in 1950.
All totaled, Paxson directed 74 plays at Oxy, most of them staged in Thorne Hall, including nine works of Shakespeare; 12 by George Bernard Shaw; and all of Chekhov, Ibsen, and Aristophanes' works. In 1960, he founded the Occidental College Summer Drama Festival, which he ran for the next 26 years and was twice recognized by the Los Angeles Critics Circle for outstanding contribution to Southern California theater. His Occidental honors include the faculty achievement award in 1969 and the Graham Sterling Memorial Award in 1976.
In addition to his work as a director, Paxson continued to write for the theater. His 1964 play Letty was produced at the Yale University Festival of New Plays by invitation and has been produced at many colleges and universities through the years. His other works include Rhubarb and Roses, The Ballad of Sanki Merser, Requiem for Jovian, and The Rosa Patentis. He remained prolific until the very end, describing his latest play, Terror Knows No Time, as "an exploration of terrorism through the eyes of four graduate students" to the Occidental Weekly in April.
A familiar figure on campus nearly every weekday in the 28 years since his retirement, Paxson went to great lengths to preserve the College's theater history. In an interview for Occidental Magazine last year, he proudly noted that such a small Oxy department has produced more than its share of headliners not only on stage (Joanna Hall Gleason '72, Tom Flynn '80) but also in set design (Ming Cho Lee '53, Heidi Ettinger '73, and Charlotte Sheffield '83) and the classroom (Freeman and Lucy Lee '78).
Paxson is survived by his wife of 61 years, Helen (Imrie) Paxson '52; children Laura and Bill; and five grandchildren North, Leifer, Brett, Brice and Brooklyn. Plans for a memorial service are pending. The Occidental College flag will fly at half-staff in Paxson's memory after classes resume in January.