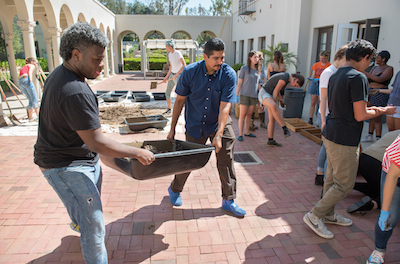 L.A. native and visual artist Rafa Esparza is this year's Wanlass Artist in Residence at Occidental College. The title of his residency is "Manos de Obra (Rituals in Land)," and he will be teaching students how to craft adobe bricks to be used in a campus installation. 
"Manos de Obra is a conversation about local cultural production that spans disciplines, practices and modes that include art-making, collective labor, organizing, activism and protest," Esparza says. "I'm interested in sharing with students work that is being produced locally that is shaping culture in Los Angeles in distinct ways. I'm particularly interested in how different makers are thinking about bodies within their respective work and how they engage their own bodies, that of their collaborators in some instances, audiences and their communities; and how their work can also be generative in the classroom as knowledge and modes of production." 
There are three parts to Esparza's residency:
A fall class (Manos de Obra: Bodies Making Los Angeles).
A fall open-hours work-in-progress space (Manos de Obre: Rituals in Land) in Weingart Gallery where the class and residency take place. Open to public viewing, Esparza will be working with students in the space through November 18 on Tuesdays and Thursdays (11 a.m.–1:30 p.m. and 4-7 p.m.). Gallery-sitters will be there on weekends (Saturdays and Sundays from 1 to 5 p.m.).
In spring 2017, Esparza will create a temporary installation on campus inspired by his work and interactions with the students and maintenance staff while at Oxy.
Esparza will also give a free public lecture on October 25 from 12 to 1 p.m. in Choi Auditorium, followed by a reception on the AGC patio. In addition, he will lead a hands-on public workshop on his process of adobe brick-making in November.
Over the course of the semester, in collaboration with art history and the visual arts professor Mary Beth Heffernan's class Art as Resistance, and with the help of Facilities staff, students will gather ingredients, prepare them, use them to mix adobe and shape them into bricks. They will use "the process taught to me by my father Ramon Esparza, who learned the technique as a young teenage brick-maker in Mexico before migrating up to the States," Esparza says.
At the end of the semester, the adobe bricks will be used "as decided upon collectively by all makers," Esparza says.
In addition to the finished product, the project will consider social issues, Esparza says. "My residency at Oxy will consider the forms of manual labor on campus, its laborers and their relationship to the campus body. How is manual labor made on campus? How is that work made (in)visible? How are these laborers' bodies present?"
"Rafa is a visionary L.A.-based artist who we are thrilled to host at Oxy as our Wanlass Artist in Residence," says Deena Selenow, director of Oxy Arts. "Each time I go visit him after one of his classes, his students emerge covered in plaster, straw or adobe and grinning from ear to ear. It's clear that the students have formed a quick and meaningful bond with Rafa as a teacher and mentor."
Esparza received his BFA from UCLA and currently works in a variety of mediums, including installation, sculpture, drawing, painting and performance. He has shown work at a variety of sites, including traditional fine art contexts and community-based platforms. His work has been shown at Los Angeles Contemporary Exhibitions (2015); Bowtie Project, Los Angeles, with Clockshop (2015); Armory Center for the Arts, Pasadena (2015); and Vincent Price Art Museum, East Los Angeles (2014).
He has performed outside the Twin Towers Correctional Facility, Los Angeles (2015); in Elysian Park (2014); and underneath the viaduct on Fourth and Lorena Streets in Boyle Heights (2014). His work was included in the Made in L.A. Biennial (2016) at the Hammer Museum; the MexiCali Biennial (2013) at the Vincent Price Art Museum; and in Native Strategies 3 at Human Resources, Los Angeles (2013). Esparza was awarded a Rema Hort Mann Foundation Emerging Artist Grant (2015), a California Community Foundation Fellowship for Visual Artists (2014) and an Art Matters Grant (2014).
The Wanlass Artist in Residence is a semester-long residency program that allows an artist to investigate aspects of their practice and share it with the College campus-wide. The program encourages cross-campus collaboration and thoughtful sustained interaction between artist and students.
The Wanlass Artist in Residence Program is made possible by generous support from the Kathryn Caine Wanlass Charitable Foundation.